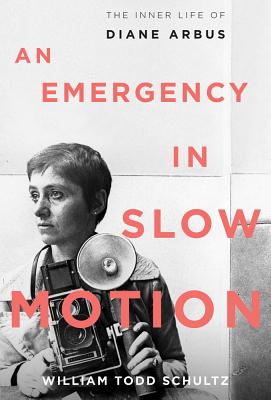 An Emergency in Slow Motion: The Inner Life of Diane Arbus (Hardcover)
The Inner Life of Diane Arbus
Bloomsbury Publishing PLC, 9781608195190, 247pp.
Publication Date: September 6, 2011
* Individual store prices may vary.
or
Not Currently Available for Direct Purchase
Description
Diane Arbus was one of the most brilliant and revered photographers in the history of American art. Her portraits, in stark black and white, seemed to reveal the psychological truths of their subjects. But after she committed suicide in 1971, at the age of forty-eight, the presumed chaos and darkness of her own inner life became, for many viewers, inextricable from her work.
In the spirit of Janet Malcolm's classic examination of Sylvia Plath, "The Silent Woman, " William Todd Schultz's "An Emergency in Slow Motion" reveals the creative and personal struggles of Diane Arbus. Schultz veers from traditional biography to interpret Arbus's life through the prism of four central mysteries: her outcast affinity, her sexuality, the secrets she kept and shared, and her suicide. He seeks not to diagnose Arbus, but to discern some of the private motives behind her public works and acts. In this approach, Schultz not only goes deeper into Arbus's life than any previous writer, but provides a template with which to think about the creative life in general.
Schultz's careful analysis is informed, in part, by the recent release of some of Arbus's writing and work by her estate, as well as by interviews with Arbus's psychotherapist. "An Emergency in Slow Motion" combines new revelations and breathtaking insights into a must-read psychobiography about a monumental artist-the first new look at Arbus in twenty-five years.
About the Author
William Todd Schultz is a professor of psychology at Pacific University in Oregon, focusing on personality research and psychobiography. He edited and contributed to the groundbreaking Handbook of Psychobiography, and curates the book series Inner Lives, analyses of significant artists and political figures. His own book in the series, Tiny Terror, examines the life of Truman Capote. Todd Schultz blogs for Psychology Today.
Praise For An Emergency in Slow Motion: The Inner Life of Diane Arbus…
"Exceptional prose, illuminating psychological theory, and the visceral memories of those who knew her add up to a haunting portrait of Arbus as a tenacious and quixotic artist whose outré photographs blaze on in all their strange romance, protest, and longing." —Booklist  "With extraordinary interviews with new sources, William Todd Schultz's An Emergency in Slow Motion... promises to be an explosive contribution to what's known about Diane Arbus." - Daily Beast "A sensitive but deeply provocative psychobiography." - Vogue.com "Schultz is a sharp, lucid writer... He proceeds with a sense of reflection, perspective, and nuance." - NPR.org "Our Virgil on this journey into [Arbus's] inner world is William Todd Schultz... he marshals an impressive list of sources... [and] sifts and shapes his material with flair." - Telegraph (UK) "William Todd Schultz has done the impossible; he's pulled Diane Arbus out from under the black shroud of the photographer's cape and into the light. An Emergency in Slow Motion is the book Arbus's legions of admirers have long waited for: a vivisection of her psyche that allows us—the voyeurs she made of us—to understand her stark, accusatory vision." —Kathryn Harrison, author of The Kiss "This portrait of the art and psyche of Diane Arbus is exciting and wrenching and full of revelations. And it is a model for the promise of William Todd Schultz's larger project to infuse psychobiography with curiosity, humility, and intelligence. Readers may be left, as I was, considering the eternal, essential, impossible problem: how to look at darkness. —Joshua Wolf Shenk, author of Lincoln's Melancholy "Schultz has written a short psychological symphony.  He begins with a few simple themes—about secrets and sex, about photographing freaks, about being a freak and photographing the self. Calling upon contemporary psychological research, extraordinary empathy, and a deep understanding of how madness and creativity often intersect, Schultz introduces surprising variations on these themes, as the music builds in complexity, texture, and beauty, pulling the reader forward, inexorably, to the dramatic conclusion"  —Dan P. McAdams, author of George W. Bush and the Redemptive Dream

Advertisement