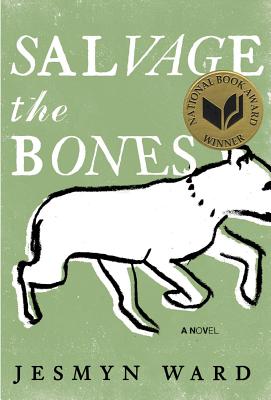 Salvage the Bones (Hardcover)
Bloomsbury Publishing PLC, 9781608195220, 261pp.
Publication Date: September 6, 2011
* Individual store prices may vary.
Description
Winner of the National Book Award
Jesmyn Ward, two-time National Book Award winner and author of Sing, Unburied, Sing, delivers a gritty but tender novel about family and poverty in the days leading up to Hurricane Katrina.
A hurricane is building over the Gulf of Mexico, threatening the coastal town of Bois Sauvage, Mississippi, and Esch's father is growing concerned. A hard drinker, largely absent, he doesn't show concern for much else. Esch and her three brothers are stocking food, but there isn't much to save. Lately, Esch can't keep down what food she gets; she's fourteen and pregnant. Her brother Skeetah is sneaking scraps for his prized pitbull's new litter, dying one by one in the dirt. Meanwhile, brothers Randall and Junior try to stake their claim in a family long on child's play and short on parenting.
As the twelve days that make up the novel's framework yield to their dramatic conclusion, this unforgettable family--motherless children sacrificing for one another as they can, protecting and nurturing where love is scarce--pulls itself up to face another day. A big-hearted novel about familial love and community against all odds, and a wrenching look at the lonesome, brutal, and restrictive realities of rural poverty, Salvage the Bones is muscled with poetry, revelatory, and real.
About the Author
Jesmyn Ward received her M.F.A. from the University of Michigan and is currently an associate professor of creative writing at Tulane University. She is the editor of the anthology The Fire This Time and the author of the memoir Men We Reaped and the novels Where the Line Bleeds and Sing, Unburied, Sing, a finalist for the National Book Award. A 2017 MacArthur Fellow in Fiction, Ward lives in DeLisle, Mississippi.
Praise For Salvage the Bones…
2011 National Book Award Winner "Masterful… Salvage the Bones has the aura of a classic about it." —Washington Post
"Ward's writing is startling in its graphic clarity… [This] author has an unusual gift."
— Boston Globe
"The novel's hugeness of heart and fierceness of family grip and hold on like Skeetah's pit bull."—
O: the Oprah Magazine
"Searing… Despite the brutal world it depicts,
Salvage the Bones
is a beautiful read. Ward's redolent prose conjures the magic and menace of the southern landscape."
— Dallas Morning News
"This book is impossibly beautiful."—OxfordAmerican.org
"The novel's power comes from the dread of the approaching storm and a pair of violent climaxes. The first is a dog fight, an appalling spectacle given emotional depth by Skeetah's love for the pit bull China (their bond is the strongest and most affecting in the book). When the hurricane strikes, Ms. Ward endows it, too, with attributes maternal and savage: 'Katrina is the mother we will remember until the next mother with large merciless hands, committed to blood, comes.'"
—
Wall Street Journal
"From its lyrical yet visceral first scene, this novel had me, and I hardly dared to put it down for fear a spell might be broken. But it never was or will be, such are the gifts of this writer." —
Laura Kasischke, author of In a Perfect World
"Jesmyn Ward has written… the first Katrina-drenched fiction I'd press upon readers now… Ward's pacing around the hurricane is exquisite—we nearly forget its impending savagery. The Batistes' shared sacrifice is moving, made more so by their occasional shirking of sacrifice. Ward allows the letdowns integral to family life to play their part."
— Plain Dealer (Cleveland, OH)
"A pitch-perfect account of struggle and community in the rural South… Though the characters in
Salvage the Bones
face down Hurricane Katrina, the story isn't really about the storm. It's about people facing challenges, and how they band together to overcome adversity."
— BookPage
"Jesmyn Ward has claimed her place both as a contemporary witness of life in the rural South and as a descendent of its great originals… The voice is lyric, unsparing and fierce. You won't forget this book." —
Nicholas Delbanco, author of Lastingness
"Ward uses fearless, toughly lyrical language to convey this family's close-knit tenderness [and] the sheer bloody-minded difficulty of rural African American life... It's an eye-opening heartbreaker that ends in hope… You owe it to yourself to read this book." —
Library Journal (starred review)
"Both unflinching and tender, heartbreaking and triumphant. A lyrical and riveting testament to the strength of the human spirit… This is an extraordinary book by an extraordinary writer." —
Skip Horack, author of The Eden Hunter
"Few works of fiction can capture the heart-wrenching emotions attached to a natural disaster, and fewer still can do it in a way that seems palpable and fresh.
Salvage the Bones
, the latest by rising star Jesmyn Ward, accomplishes this feat, and then some…. From beginning to end, Jesmyn flirts with perfection in this stunning second novel, and the reader is rewarded for it."
— Free Lance-Star (Fredericksburg, VA)
"
Salvage the Bones
is an engaging novel that, on the surface, seems like a sorrowful tale of a broken household, yet holds beneath it the cherished story of family and loyalty." —
TheRoot.com
"Deeply felt and bristling with breathtaking imagery,
Salvage the Bones
will hold its readers utterly riveted to the very last page." —
Travis Holland, author of The Archivist's Story
"
Salvage the Bones
…is uncompromising and frank, showing both beauty and violence, poverty and resilience, in a powerful and poetic voice."
— Sun Herald (Biloxi, MS)
"[A] poetic second novel … Esch traces in the minutiae of every moment of every scene of her life the thin lines between passion and violence, love and hate, life and death … Her voice… [gives the book's] cast of small lives a huge resonance."
—Publishers Weekly (starred review)
"
Salvage the Bones
is a novel that will make readers wince at times and tear up at others. Ward gives voice to the forgotten families of the Gulf Coast through lyrical imagery and the type of uncensored authenticity that can only be delivered through the eyes of a child… it is a true testament to the realities of rural poverty." —
Bust
"Jesmyn Ward writes like an angel with a knife to your throat, compelling you with exquisite language and a clear voice to go where she goes, to see what she sees.
Salvage the Bones
is at turns unsettling and uplifting—raw and honest as a dogfight, lyrical as a poem." —
Ken Wells, author of Meely LaBauve
Coverage from NPR
or
Not Currently Available for Direct Purchase