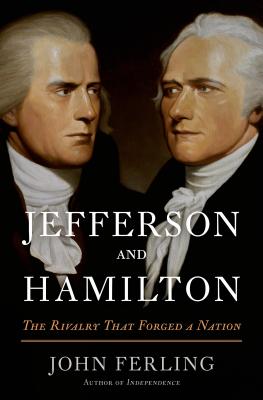 Jefferson and Hamilton
The Rivalry That Forged a Nation
Hardcover

* Individual store prices may vary.
Other Editions of This Title:
Paperback (10/7/2014)
Description
From the award-winning author of Almost a Miracle and The Ascent of George Washington, this is the rare work of scholarship that offers us irresistible human drama even as it enriches our understanding of deep themes in our nation's history.

The decade of the 1790s has been called the "age of passion." Fervor ran high as rival factions battled over the course of the new republic-each side convinced that the other's goals would betray the legacy of the Revolution so recently fought and so dearly won. All understood as well that what was at stake was not a moment's political advantage, but the future course of the American experiment in democracy. In this epochal debate, no two figures loomed larger than Thomas Jefferson and Alexander Hamilton.

Both men were visionaries, but their visions of what the United States should be were diametrically opposed. Jefferson, a true revolutionary, believed passionately in individual liberty and a more egalitarian society, with a weak central government and greater powers for the states. Hamilton, a brilliant organizer and tactician, feared chaos and social disorder. He sought to build a powerful national government that could ensure the young nation's security and drive it toward economic greatness.

Jefferson and Hamilton is the story of the fierce struggle-both public and, ultimately, bitterly personal-between these two titans. It ended only with the death of Hamilton in a pistol duel, felled by Aaron Burr, Jefferson's vice president. Their competing legacies, like the twin strands of DNA, continue to shape our country to this day. Their personalities, their passions, and their bold dreams for America leap from the page in this epic new work from one of our finest historians.
Praise For Jefferson and Hamilton: The Rivalry That Forged a Nation…
"John Ferling brings to bear the considerable talents that have won him acclaim: a deep knowledge of the era, a graceful writing style and a voice that captures a reader's attention from the first page to the last. The result is a sympathetic look at two founding fathers whose visions for America are equally grand and equally compelling…Ferling is so adept at telling a story that the reader will learn much about the transition from British colonies to a new American nation." —Washington Post

"Ferling provides valuable perspective not only on the Founding Fathers and their accomplishments but, overtly, on today, when fierce differences divide people who say they are seeking to preserve their nation and its values. Highly recommended." —Library Journal

"Jefferson and Hamilton is another masterpiece penned by the eminent Revolutionary War historian John Ferling." —New York Journal of Books

"The author's comparative study is bold, brisk and lucid...from hammering out constitutional liberties and building the nation's banking system to jockeying in early elections, Ferling draws crisp, sharp delineations between his two subjects." —Kirkus Reviews

"With moments of exciting clarity, Ferling's account of two of the most famous American revolutionaries offers gossip, intrigue, and a window into their heated and turbulent relationship…astute research congeals to bring the lives of Jefferson and Hamilton, Washington and Burr, and their contemporaries into our modern world. As personalities clash and egos are wounded, Ferling gives readers a chance to rediscover the birth of the United States through the characters who helped craft its most vital institutions." —Publishers Weekly
Bloomsbury Press, 9781608195282, 464pp.
Publication Date: October 1, 2013
About the Author
John Ferling is Professor Emeritus of History at the State University of West Georgia. A leading authority on American Revolutionary history, he has appeared in many documentaries and has written numerous books, including Almost a Miracle: The American Victory in the War for Independence, Adams vs. Jefferson: The Tumultuous Election of 1800, The First of Men: A Life of George Washington, Setting the World Ablaze: Washington, Adams, and Jefferson in the American Revolution, and the award-winning A Leap in the Dark: The Struggle to Create the American Republic.
or
Not Currently Available for Direct Purchase