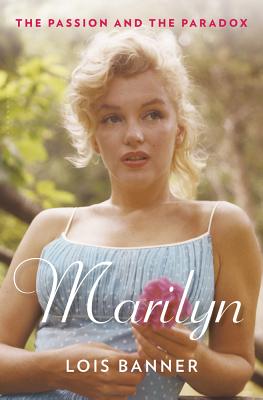 Marilyn (Hardcover)
The Passion and the Paradox
Bloomsbury USA, 9781608195312, 528pp.
Publication Date: July 17, 2012
Other Editions of This Title:
Paperback (9/3/2013)
* Individual store prices may vary.
Description
Like her art, Marilyn Monroe was rooted in paradox: She was a powerful star and a childlike waif; a joyful, irreverent party girl with a deeply spiritual side; a superb friend and a narcissist; a dumb blonde and an intellectual. No previous biographer has recognized -- much less attempted to analyze -- most of these aspects of her personality. Lois Banner has.
Since Marilyn's death in August of 1962, the appetite for information about her has been insatiable. Biographies of Marilyn abound, and whether these books are sensational or flawed, Marilyn's fans have always come out in bestselling numbers. This time, with Lois Banner's Revelations, the fans won't be disappointed. This is no retread of recycled material. As one of the founders of the field of women's history, Banner will reveal Marilyn Monroe in the way that only a top-notch historian and biographer could.
In researching Revelations, Banner's credentials opened doors. She gained access to Marilyn intimates who hadn't spoken to other biographers, and to private material unseen, ignored, or misinterpreted by her predecessors. With new details about Marilyn's childhood foster homes, her sexual abuse, her multiple marriages, her affairs, and her untimely death at the age of thirty-six, Revelations is, at last, the nuanced biography Marilyn fans have been waiting for.
About the Author
Lois Banner is a founder of the field of women's history and cofounder of the Berkshire Conference of Women Historians, the major academic event in the field. She was the first woman president of the American Studies Association, and in 2006 she won the ASA's Bode-Pearson Prize for Outstanding Contributions to American Studies. She is the author of ten books, including her acclaimed American Beauty and most recently MM -- Personal, which reproduces and discusses items from Marilyn Monroe's personal archive. In addition to her books on Monroe, Banner is a major collector of her artifacts. Banner is a professor of history and gender studies at USC and lives in Southern California.
Praise For Marilyn: The Passion and the Paradox…
"A dazzling portrait of a fragile but remarkably ambitious and determined personality, as spiritual as she was corporeal, as canny as she was careless." —Carina Chocano, Elle
"Banner…probe[s] Monroe's fraught relationship to her sexuality with an uncommonly insightful eye. But fans of Hollywood Babylon, take heart: Studious as she is, Banner also rakes the muck like a pedigreed newshound." —Jan Stuart, More
"By dint of exhaustive research and uniquely informed analysis, distinguished and trailblazing feminist historian Banner has written a profoundly redefining bombshell biography of artist and icon Marilyn Monroe. Banner is the first to bring a scholar's perspective to bear on the influence of postwar misogyny and sexual hypocrisy on Monroe's life and work as she painstakingly chronicles Monroe's shunting from one foster home to another, her sexual abuse and subsequent stutter, evangelical upbringing, daring foray into modeling, and epic battle for Hollywood success. Intellectual rigor and insight shape Banner's coverage of Monroe's debilitating endometriosis, chronic insomnia, prescription-drug addiction, numerous sexual relationships, reliance on psychoanalysis, and three troubled marriages. Banner breaks new ground with her sensitive disclosure of the star's toxic fear of the exposure of her sexual attraction to women, an utter disgrace for a reigning sex symbol in a harshly homophobic time. And her revelations about the role of the Kennedys and the FBI in Monroe's death are appalling. On the upside, Banner celebrates Monroe's perfectionism, generosity, humanist political views, trickster humor, covert brilliance, daunting "process of self-creation," and immense cultural resonance. A passion for precision and truth fuels Banner's electrifying portrait of an artist caught in a maze of paradoxes and betrayals. Here is Marilyn as we've never seen her before." —Donna Seaman, Booklist (starred review)
"This new biography brings the known facts up to date and offers a fresh, modern take on the tragic star's life and choices…. Surely not the last word, but a complete and honest effort and a good starting place." —Kirkus Reviews
"Banner elegantly and skillfully chronicles Monroe's short life…. [she] paints a portrait of Monroe as a complicated, many-faceted woman." —Publishers Weekly