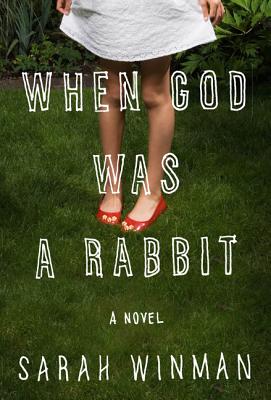 When God Was a Rabbit (Hardcover)
A Novel
Bloomsbury USA, 9781608195343, 304pp.
Publication Date: May 17, 2011
Other Editions of This Title:
Paperback (4/24/2012)
Paperback (3/1/2011)
Paperback (12/1/2011)
Paperback (5/1/2011)
Hardcover (3/1/2011)
* Individual store prices may vary.
Description
This is a book about a brother and a sister. It's a book about secrets and starting over, friendship and family, triumph and tragedy, and everything in between. More than anything, it's a book about love in all its forms.
In a remarkably honest and confident voice, Sarah Winman has written the story of a memorable young heroine, Elly, and her loss of innocence-a magical portrait of growing up and the pull and power of family ties. From Essex and Cornwall to the streets of New York, from 1968 to the events of 9/11, When God Was a Rabbit follows the evolving bond of love and secrets between Elly and her brother Joe, and her increasing concern for an unusual best friend, Jenny Penny, who has secrets of her own. With its wit and humor, engaging characters whose eccentricities are adroitly and sometimes darkly drawn, and its themes of memory and identity, When God Was a Rabbit is a love letter to true friendship and fraternal love.
Funny, utterly compelling, fully of sparkle, and poignant, too, When God Was a Rabbit heralds the start of a remarkable new literary career.
About the Author
Sarah Winman is an actress who attended the Webber Douglas Academy of Dramatic Art and has gone on to act in theater, film, and television. When God was a Rabbit is her debut novel. She lives in London.
Praise For When God Was a Rabbit: A Novel…
"No bare-bones plot summary can do justice to this wonderfully wise and compellingly readable tale of love and friendship in all their forms, of family uncircumscribed by biological bonds, and of loss worse than death. A remarkable first novel, worth savoring." —Booklist (starred review)
"Winman's debut boasts one of the more endearingly unconventional families in a while. A freshly rendered tale of growing up and living in the world by a late-starting author with a bright future." —Kirkus Reviews
"Affecting and original." —Library Journal
"Winman shows impressive range and vision in breaking out of the muted coming-of-age mold, and the narrative's intensity will appeal to readers who like a little gloom." —Publishers Weekly
"Sarah Winman has written this book in the exact way events in a childhood--and a life--accrue, and I've never seen anyone able to do that so well. Brilliant, funny, and moving, When God Was a Rabbit is a captivating novel!" —Robb Forman Dew, author of Being Polite to Hitler
In the prologue of When God Was a Rabbit, Elly recalls a coin trick Jenny Penny showed her when they were children. What does Elly learn about faith, loyalty, and magic from Jenny? How does this scene introduce their friendship, and how does it foreshadow the problems that the girls will face?
Discuss Elly's friendship with Abraham Golan, her next-door neighbor. Why does Elly prefer his company to friends her own age? Why doesn't Elly tell her parents her secret about Mr. Golan? How does she react to his death, and how does the secret haunt her in the years to come?
Why does Elly name her pet rabbit god? How does this name relate to her father's ambivalence about religion and fate? As an adult, Elly writes in her "Lost and Found" column that her childhood was a time "when sweets were a penny and god was a rabbit" (246). How has Elly's view of the world changed since that magical time?
According to Elly, "Jenny Penny's mother was as different from mine as any mother could be" (46). What are the differences between these two mothers? What are some similarities that might not be so apparent to young Elly?
Discuss the consequences of Mr. X's case, when Elly's father defended a guilty man against charges of child molestation. Why does the death of Mr. X's accuser continue to haunt Elly's father? Does he ever forgive himself for Mr. X's acquittal? Why or why not?
Part Two of the novel picks up fifteen years later, in 1995. How has Elly changed? In what ways has Elly failed to come to terms with her past? How will she mend her two closest relationships—with her brother and with Jenny—in Part Two?
Although When God Was a Rabbit features traumatic events—child molestation, suicide, kidnapping, murder, illness, and terrorism—the novel also shines with humor. How does the novel manage to balance tragedy and comedy?
Consider the character of Nancy, Elly and Joe's glamorous aunt. How does Nancy support her family in difficult times? How does she help Joe come to terms with his homosexuality?
After her move to Cornwall, Elly sends Jenny a fossil she found with Nancy, who says, "Nothing stays forgotten for long, Elly. Sometimes we have to remind the world that we're special and that we're still here" (105). Why does Jenny return the fossil to Elly when she gets out of jail? What does the fossil symbolize to Jenny and Elly?
Discuss the high and low points of Elly's parents' relationship. How does a Mercedes almost break up their marriage? Why does Elly's father feel alienated from his wife when she insists that Joe is still alive after 9/11? What role does Nancy play within their marriage, and how does this complicated love triangle seem to work?
When Joe suffers from amnesia after 9/11, Elly remembers a phrase from her childhood, when god the rabbit reappeared after his death: "I am here but I am not yours" (267). How does this saying apply to Joe and to the rabbit? What does Elly learn about lasting relationships from each of these losses?
Compare Elly and Jenny's friendship to Joe and Charlie's. How do Elly and Joe lose touch with their best friends? How does each sibling cope with the loss? How does each friendship survive long distances and tragic events?
Realizing how much she has kept from her parents, Elly thinks, "I knew I'd hurt them with this distance, with this silence, and now they'd understand; but at what price?" (288). What was the price of keeping the secret, and what are the costs and benefits of telling it?
When God Was the Rabbit incorporates world events into the plot, from John Lennon's murder to international kidnappings to the tragic losses of 9/11. How does history look through Elly's eyes? What perspective does she have on tragedy and loss?
Consider the ties among family members, friends, and lovers in When God Was a Rabbit. Which bond seems strongest for these characters: family, friendship, or romance? Give some examples to explain your answer.
or
Not Currently Available for Direct Purchase