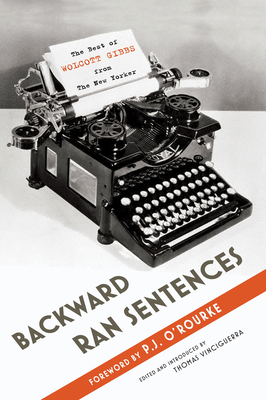 Backward Ran Sentences: The Best of Wolcott Gibbs from the New Yorker (Paperback)
The Best of Wolcott Gibbs from the New Yorker
Bloomsbury Publishing PLC, 9781608195503, 667pp.
Publication Date: October 11, 2011
* Individual store prices may vary.
or
Not Currently Available for Direct Purchase
Description
"Maybe he doesn't like anything, but he can do everything," "New Yorker" editor Harold Ross once said of the magazine's brilliantly sardonic theater critic Wolcott Gibbs. And, for over thirty years at the magazine, Gibbs did do just about everything. He turned out fiction and nonfiction, profiles and parodies, filled columns in "The Talk of the Town" and "Notes and Comment," covered books, movies, nightlife, and, of course, the theater. A friend of the Algonquin Round Table, Gibbs was renowned for his humor. (Perhaps his most enduring line is from a profile of Henry Luce, parodying "Time" magazine's house style: "Backward ran sentences until reeled the mind.")
In his day, Gibbs was equal in stature to E. B. White and James Thurber, but he is little read today. In "Backward Ran Sentences," journalist Thomas Vinciguerra provides a biographical sketch of Gibbs and gathers a generous sampling of his finest work across an impressive range of genres, bringing a brilliant, multitalented writer of incomparable wit to a new age of readers.
Praise for Wolcott Gibbs:
"His style had brilliance that was never flashy, he was self-critical as well as critical, and he had absolute pitch, which enabled him to become a parodist of the first rank."-E. B. White, "New Yorker," 1958.
About the Author
Wolcott Gibbs, born in 1902, began working at the New Yorker in 1927. A supremely gifted writer and editor, he had, by his mid-thirties, published more than a million words in the magazine, covering every section, although he was best known, in his later years, as a sharp theater critic. Gibbs died at the age of 56 on Fire Island.Tom Vinciguerra is a frequent contributor to the New York Times, and former deputy editor of The Week.
Praise For Backward Ran Sentences: The Best of Wolcott Gibbs from the New Yorker…
"Now the rest of Gibbs -- or a very generous sampling -- is finally back in print. It's delicious stuff. You'll find Talk of the Town stories, profiles, pitch-perfect parodies (the one of Ernest Hemingway is especially wicked), and reviews... Gibbs wasn't always right, and he didn't go out of his way to be nice. But he was always sharp, and every one of these pieces could be a primer on everything that magazine articles should be (but very seldom are)." - Very Short List  "If you're gripped with the feeling that they don't write 'em like they used to, we refer you to Backward Ran Sentences, probably [James Wolcott's] only competition this season in the categories of wit, wordplay and all-around insouciance." - New York Observer "Readers who enjoy the style and wit of The New Yorker will love this collection. It is easy to dip into for the perfect piece, and the large selection will satisfy." –Library Journal  "In its range and virtuosity, Backward Ran Sentences reminds the reader that what Gibbs wrote about Benchley could just as easily have been written about himself: 'He was sure, wonderfully resourceful, and his style... would have been admirable applied to anything.' " - Barnes & Noble Review
"He may be obscure now, but Wolcott Gibbs was a New Yorker giant who held sway in the magazine's glory years with the likes of E.B. White, James Thurber, and Dorothy Parker...Vinciguerra offers a hefty sampling of Gibbs's versatile and voluminous oeuvre...Journalists, critics, and wordsmiths...will appreciate his dry, sharp wit, keen observational skills, elegant condescension, and take-no-prisoners attitude." - Publishers Weekly 
Advertisement