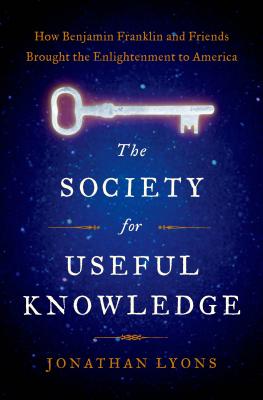 The Society for Useful Knowledge (Hardcover)
How Benjamin Franklin and Friends Brought the Enlightenment to America
Bloomsbury Press, 9781608195534, 240pp.
Publication Date: June 11, 2013
Other Editions of This Title:
Paperback (6/10/2014)
* Individual store prices may vary.
Description
Benjamin Franklin and his contemporaries brought the Enlightenment to America--an intellectual revolution that laid the foundation for the political one that followed. With the "first Drudgery" of settling the American colonies now well and truly past, Franklin announced in 1743, it was high time that the colonists set about improving the lot of humankind through collaborative inquiry. From Franklin's idea emerged the American Philosophical Society, an association hosted in Philadelphia and dedicated to the harnessing of man's intellectual and creative powers for the common good. The animus behind the Society was and is a disarmingly simple one-that the value of knowledge is directly proportional to its utility. This straightforward idea has left a profound mark on American society and culture and on the very idea of America itself-and through America, on the world as a whole.
From celebrated historian of knowledge Jonathan Lyons comes The Society for Useful Knowledge, telling the story of America's coming-of-age through its historic love affair with practical invention, applied science, and self-reliance. Offering fresh, original portraits of figures like Thomas Jefferson, Benjamin Rush, and the inimitable, endlessly inventive Franklin, Lyons gives us vital new perspective on the American founding. He illustrates how the movement for useful knowledge is key to understanding the flow of American society and culture from colonial times to our digital present.
About the Author
Jonathan Lyons is the author of The House of Wisdom: How the Arabs Transformed Western Civilization (Bloomsbury Press 2009). He served as editor and foreign correspondent for Reuters for more than 20 years. He holds a doctorate in sociology, and has taught at George Mason University, Georgetown University, and Monash University in Australia. He lives in Portland, Oregon.
Praise For The Society for Useful Knowledge: How Benjamin Franklin and Friends Brought the Enlightenment to America…
"Nothing was more crucial to America's founding than the Enlightenment, and no one played a more important role than Benjamin Franklin in transmitting the ideas of the Age of Enlightenment to the wider public in the form of useful knowledge. Jonathan Lyons, an engaging storyteller and insightful scholar, conveys the breathtaking sweep of this crucial story with grace and flair, and in the process he provides a compelling and innovative perspective on the American Revolution and the new nation that emerged from that upheaval." —John Ferling, author of The Ascent of George Washington and Independence: The Struggle to Set America Free
"Lyons has done a fine job in giving us a glimpse not just of Franklin the virtuoso but of the world in which he lived and worked, his contemporaries, and their enthusiasms." —Weekly Standard
"In this highly readable account … Lyons illuminates a formative period in American cultural history, the theme being that 'the value of learning and knowledge . . . is directly proportional to its practical import and utility.'" —Booklist
"Lyons has raised important questions about the origins of "useful knowledge" in America that will have wide appeal. Recommended." —Library Journal
"Clear, focused snapshots of a movement and its celebrated leader." —Kirkus Reviews
or
Not Currently Available for Direct Purchase