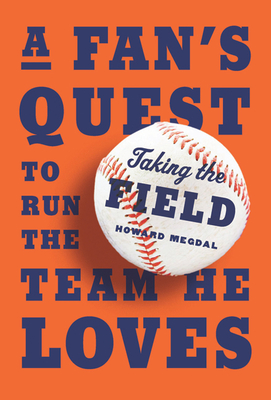 Taking the Field: A Fan's Quest to Run the Team He Loves (Hardcover)
A Fan's Quest to Run the Team He Loves
Bloomsbury Publishing PLC, 9781608195794, 237pp.
Publication Date: May 10, 2011
* Individual store prices may vary.
or
Not Currently Available for Direct Purchase
Description
In this fearless and half-crazy story, Howard Megdal decides that simply rooting isn't enough-it's time for fans to stand up and take charge. A lifelong and feverish New York Mets fan, he has been there through thick and (more often) thin. And yet, year in and year out, the Mets seem to find ways to disappoint him. The almost-victories, the mistakes, the lost years; it's all too heartbreaking. And so, mustering his energy, heart, and sportswriter's pedigree, Megdal decides to become the general manager of the Mets. It's not an elected office, but that doesn't mean you can't campaign for it.
Part baseball history and part personal narrative, "Taking the Field" is at heart the story of a fan who decides to take control. Staging public rallies to gain support, and hustling for interviews and opportunities, Megdal rewrites the rules for being a fan: If you want a championship so badly, maybe it's time for more than praying at the television and buying merchandise. Maybe it's time for action. As he tells his personal story, Megdal intersperses the narrative with a history of rooting for his team: the Tom Seaver trade, the Doc Gooden saga, the highs and lows, the mistakes, and the moments that made it worth the pain. At the same time, he learns the lessons of this history, outlining for the public his campaign pillars: logic, transparency, and passion.
With the unstinting passion of "Rammer Jammer Yellow Hammer," the humor and business smarts of "Moneyball," and the elbow-grease appeal of" Julie & Julia," "Taking the Field" is a love letter to baseball.
About the Author
Howard Megdal is a writer for the Web sites SNY.tv, MLBTradeRumors.com, New York Baseball Digest, and Amazin' Avenue. He lives in Airmont, New York, with his wife, daughter, and an organizational depth chart of the Mets on the wall. He has the support of over twenty Mets baseball bloggers, with a collective monthly traffic of over 5 million readers. His Web site is www.megdalforgm.com.
Praise For Taking the Field: A Fan's Quest to Run the Team He Loves…
"With his tongue both in-cheek and out, Howard Megdal has cemented his role as baseball's Pat Paulsen. The winsome story of his campaign for Mets GM reminds us that all good fans go a little crazy from time to time, and that, in the end, is why we love the game."—Dan Szymborski, editor of Baseball Think Factory
"Now here's a concept any fan could get behind: Make the GM of every team RUN for election. That was Howard Megdal's brilliant idea. And while I'm not sure how many sportswriters could get elected GM, I have to admit that, after reading this thoroughly entertaining book, I'd vote for Howard. Heck, if Moneyball could work, why not Keyboard-ball?"—
Jayson Stark, ESPN
Advertisement