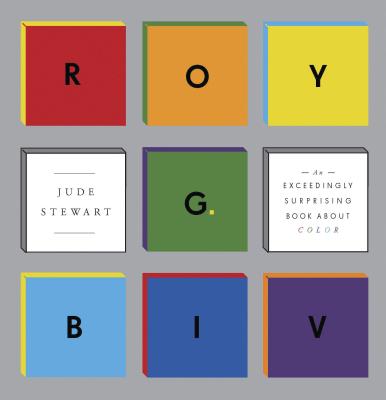 ROY G. BIV (Hardcover)
An Exceedingly Surprising Book About Color
Bloomsbury USA, 9781608196135, 176pp.
Publication Date: September 17, 2013
* Individual store prices may vary.
Description
Color is all around us every day. We use it to interpret the world-red means stop, blue means water, orange means construction. But it is also written into our metaphors, of speech and thought alike: yellow means cowardice; green means envy-unless you're in Germany, where yellow means envy, and you can be "beat up green and yellow."
Jude Stewart, a design expert and writer, digs into this rich subject with gusto. What color is the universe? We might say it's black, but astrophysicists think it might be turquoise. Unless it's beige. To read about color from Jude Stewart is to unlock a whole different way of looking at the world around us-and bringing it all vividly to life.
The book itself is organized around the rainbow and is lavishly designed, with cross-references that liven up each page. (Follow the thread of imperialism, for example, from the pink-colored colonies on maps of the British Empire to the green wallpaper that might have killed Napoleon.) A lovingly packaged, distinctive book, it will be the only one of its kind.
ROY G. BIV is a reference and inspiration for designers and artists, as well as a unique, beautiful, and irresistible book for just about anyone.
About the Author
Jude Stewart writes about design and culture for Slate, Believer, Fast Company, Good and I.D. among others. She also writes a blog about colour for Print. She lives in Chicago.
www.judestewart.com / @joodstew
Praise For ROY G. BIV: An Exceedingly Surprising Book About Color…
"A rabbit hole of a good read. Color infuses meaning; meaning infuses color. Stewart has made it all the more vibrant by exploring its interpretations." —Chicago Tribune
"Takes a deep, sometimes feisty look at all the things that color can do and mean." —The Atlantic
"Stewart's well-designed book is visually stimulating and surprising, reminding readers that colors are still as fascinating and fun as they were in grade school." —Publishers Weekly
"Roy G. Biv belongs in every design junkie's home." —Chicago Home + Garden "Domestica" blog
"In an artfully designed work, factoids and myths about color are brightly packaged in a format with eye-catching typographics... [Stewart's] research into the associations and meanings of color is extensive." —Kirkus Reviews
Coverage from NPR