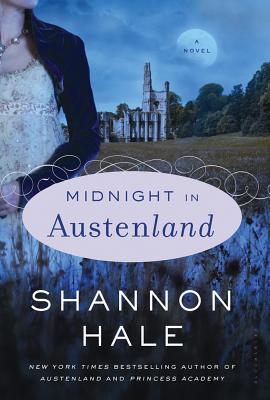 Midnight in Austenland (Hardcover)
A Novel
Bloomsbury USA, 9781608196258, 288pp.
Publication Date: January 31, 2012
Other Editions of This Title:
Paperback (9/4/2012)
* Individual store prices may vary.
Description
When Charlotte Kinder treats herself to a two-week vacation at Austenland, she happily leaves behind her ex-husband and his delightful new wife, her ever-grateful children, and all the rest of her real life in America. She dons a bonnet and stays at a country manor house that provides an immersive Austen experience, complete with gentleman actors who cater to the guests' Austen fantasies.
Everyone at Pembrook Park is playing a role, but increasingly, Charlotte isn't sure where roles end and reality begins. And as the parlor games turn a little bit menacing, she finds she needs more than a good corset to keep herself safe. Is the brooding Mr. Mallery as sinister as he seems? What is Miss Gardenside's mysterious ailment? Was that an actual dead body in the secret attic room? And-perhaps of the most lasting importance-could the stirrings in Charlotte's heart be a sign of real-life love?
The follow-up to reader favorite Austenland provides the same perfectly plotted pleasures, with a feisty new heroine, plenty of fresh and frightening twists, and the possibility of a romance that might just go beyond the proper bounds of Austen's world. How could it not turn out right in the end?
About the Author
Shannon Hale's mother says she was a storyteller from birth, jabbering endlessly in her carriage as the two strolled through the neighborhood; once she could form complete sentences, she made up stories, bribing her younger siblings to perform them in mini plays. When she was ten, she began writing books, mostly fantasy stories where she was the heroine, and she continued writing secretly for years while pursuing acting in stage and improv comedy. After detours studying in Mexico, the U. K., and Paraguay, Shannon earned a bachelor's degree in English from the University of Utah and a Masters in Creative Writing from the University of Montana. In the interim, she submitted short stories and novels to magazines and publishers, saving all her rejection letters which she has since laminated into one continuous 60-foot roll which she proudly unfurls to audiences as a testament to her dedication and determination. Since the publication of her first book, The Goose Girl, in 2003, Shannon has become a beloved author to young readers as well as booksellers and educators. Her third novel, Princess Academy, earned her a Newbery Honor and is a New York Times, Book Sense, and Publishers Weekly bestseller. Shannon has also written books for adults, Austenland and The Actor and the Housewife. Shannon lives in Salt Lake City, Utah, with her husband, Dean, their children, and their pet, a small plastic pig.
or
Not Currently Available for Direct Purchase