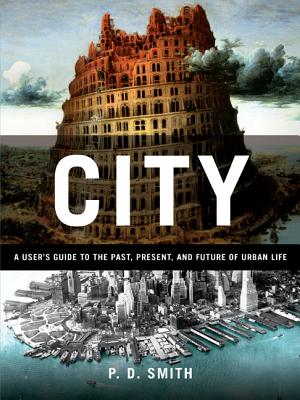 City (Hardcover)
A Guidebook for the Urban Age
Bloomsbury Press, 9781608196760, 400pp.
Publication Date: June 19, 2012
* Individual store prices may vary.
Description
For the first time in the history of our planet, more than half the population-3.3 billion people-is now living in cities. City is the ultimate guidebook to our urban centers-the signature unit of human civilization. With erudite prose and carefully chosen illustrations, this unique work of metatourism explores what cities are and how they work. It covers history, customs and language, districts, transport, money, work, shops and markets, and tourist sites, creating a fantastically detailed portrait of the city through history and into the future.
The urban explorer will revel in essays on downtowns, suburbs, shantytowns and favelas, graffiti, skylines, crime, the theater, street food, sport, eco-cities, and sacred sites, as well as mini essays on the Tower of Babel, flash mobs, ghettos, skateboarding, and SimCity, among many others. Drawing on a vast range of examples from across the world and throughout history, City is extensively illustrated with full-color photographs, maps, and other images. Acclaimed author and independent scholar P. D. Smith explores what it was like to live in the first cities, how they have evolved, and why in the future, cities will play an even greater role in human life.
About the Author
P. D. Smith is an independent researcher and writer. He has taught at University College London where he is an Honorary Research Fellow in the Science and Technology Studies Department and has contributed to the Guardian and writes for other publications including The Times, Independent and the Times Literary Supplement and regularly contributes to the acclaimed website 3 Quarks Daily. His books include Doomsday Men: The Real Dr Strangelove and the Dream of the Superweapon.
Author's website: www.peterdsmith.com
Praise For City: A Guidebook for the Urban Age…
"Half a century ago, Lewis Mumford published The City in History, a hugely influential and in some ways controversial book that has been the Bible for students and lovers of city life. But that was half a century ago, and around the world the cityscape has undergone enormous changes. A new look at this great subject has for some time been needed, and in City: A Guidebook for the Urban Age, P.D. Smith provides it. A British scholar connected to University College London, Smith is less philosophical and more empirical than Mumford, but if anything this is welcome, as City is wholly accessible to the serious general reader." —Jonathan Yardley, Washington Post
"[A] richly packed, colourful and well-written primer on the role the city plays in our lives." —Guardian (UK)
"It's a wonderful book: BldgBlog meets Italo Calvino. Gorgeous, smart, fun, and full of surprises, like wandering all the world's great cities at once… Irresistible" —David Dobbs, Wired.com
"The book...is a rich kaleidoscope celebrating urban life in all its aspects … consistently well-written and researched - and impressively eclectic … a hugely enjoyable read and an inspiring vision to aim for." —The Spectator (UK)
"The result is a sort of high-quality, unusually rigorous coffee-table book, designed to be dipped into rather than read from beginning to end … Mr. Smith's book serves as an excellent introduction to a vast subject." —Economist
"Effortlessly flitting from the surprisingly modern grid plans of ancient Chinese cities to the hauntingly timeless-looking ruins of contemporary Detroit, City represents a pain-free – in fact, joyful – survey course on nine millennia (at least) of urban history." —Taras Grescoe, Globe and Mail (Toronto)
"Smith is an engaging and curious docent to the museum of urban history" —Irish Times
"An energetic tribute to the city" —Icon
"Smith is especially adept at capturing the incessant human interaction which characterizes city life, from carnivals to street demonstrations and graffiti. Readers can virtually smell the pho sold by a street vendor in Hanoi, or marvel at acrobatics of skateboarders along the Thames. An absorbing and timely book." —The Plain Dealer
"Impressively comprehensive…Smith's book is a fascinating look at [the city's] evolution through the many physical and cultural facets that we see all around us." —The Atlantic Cities
"P.D. Smith takes a thorough and engaging look at the urban lifestyle more than half the planet has now embraced - for better or for worse." —Christian Science Monitor
"[City] is a magnificent achievement, broad in scope but absent the kind of stuffy academicism that sometimes afflict such books." —Design Observer
"City: A Guidebook for the Urban Age is a well-written ramble, a delightful book for dipping into for new discoveries. It is a love song to cities, large and small. So who is the audience for this wildly entertainment book? Anyone with an inquiring mind. It might be a good summer reading book for children who have an interest in science, history and connections. Good for adults too." —McClatchy Newspapers
"An exhaustively researched but thoroughly entertaining history of the city told in the form of a guidebook by one of Britain's leading cultural historians. There is no aspect of the city that Smith does not cover, from cemeteries to skyscrapers to street food. Reading it is like being seated next to the most-informed, and most charming guest at your dream dinner party, someone with an endless font of facts enlivened by quirky and often hilarious anecdotes." —Mark Lamster, Designers and Books
"An engaging guide" —Saul Austerlitz, The National (UAE)
"Discursive, imaginative, and comprehensive, [Smith's] analysis of everything from the Hanging Gardens of Babylon to skateboarding and graffiti should be savored." —Publishers Weekly
"As exciting, sprawling and multifarious as a shining city on a hill." —Kirkus Reviews
"Like any great city, this is a book to get lost in, to try out new areas, to sample to savor, to enjoy … Highly recommended for readers across many subject categories, including urban studies, cultural history, and travel." —Library Journal
"An erudite but lively exploration and celebration of humanity's greatest creation--the city. This one's a must read for history geeks." —Shelf Awareness
or
Not Currently Available for Direct Purchase