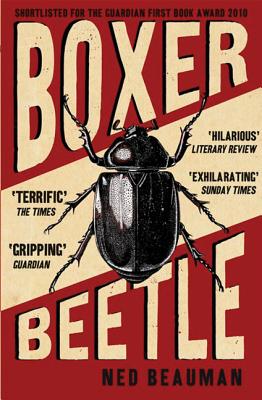 Boxer, Beetle
A Novel
Paperback

* Individual store prices may vary.
Description
From the "effervescent" (Washington Post) author of Madness is Better than Defeat and The Teleportation Accident, a rollicking novel about fascism, boxing, entomology, eugenics, and desire.

Kevin "Fishy" Broom has his nickname for a reason: he has a rare genetic condition that makes him smell markedly like rotting fish. Consequently, he rarely ventures out of the London apartment where he deals online in Nazi memorabilia. But when Fishy stumbles upon a crime scene, he finds himself on the long-cold trail of a pair of small-time players in interwar British history. First, there's Philip Erskine, a fascist gentleman entomologist who dreams of breeding an indomitable beetle as tribute to Reich Chancellor Hitler's glory, all the while aspiring to arguably more sinister projects in human eugenics. And then there's Seth "Sinner" Roach, a homosexual Jewish boxer, nine-toed, runtish, brutish--but perfect in his way--who becomes an object of obsession for Erskine, professionally and most decidedly otherwise. What became of the boxer? What became of the beetle? And what will become of anyone who dares to unearth the answers?

Ned Beauman spins out a dazzling narrative across decades and continents, weaving his manic fiction through the back alleys of history. Boxer, Beetle is a remarkably assured, wildly enjoyable debut.
Praise For Boxer, Beetle: A Novel…
"A premise as wonderfully outlandish as any we've seen in a long while... oddball and rambunctious... funny, raw and stylish." —New York Times

"An ebulliant and thrilling narrative... Irreverent, profane, and very funny. Best of all, [Beauman] writes prose that, like Chabon's, has the power to startle, no small feat in a debut." —Publishers Weekly, starred review

"First-novelist Beauman, who is just 26 years old, has concocted a bizarre and funny mystery that is filled with eccentric scholarship... Those seeking something completely different will be amply rewarded." —Booklist, starred review

"The story wonderfully mocks eugenics and fascism, while the writing bursts with imaginative metaphors... Quirky, comical, brilliant." —Kirkus Reviews

"First novelist Beauman has created a romp across the decades, with quirky characters and a complex, darkly humorous story." —Library Journal

"Perhaps the most politically incorrect novel of the decade--as well as the funniest." —Sunday Telegraph

"Brilliant… I can only gape in admiration at a new writing force." —Daily Mail

"Beauman strides where lesser writers wouldn't dare tiptoe. Maintains a high wire balance between giddy vulgarity, metafiction, and the sadness of being alive." —Melvin Jules Bukiet, author of After and Strange Fire

"Witty, erudite… articulate and original…often gobsmackingly smutty." —Time Out London

"Frighteningly assured." —Independent on Sunday

"Beauman writes with wit and verve." —Financial Times

"Prodigiously clever and energetically entertaining." —Guardian

"Many first novels are judged promising. Boxer, Beetle arrives fully formed: original, exhilarating, and hugely enjoyable." —Sunday Times

"Dazzling…As in P.G. Wodehouse and the early Martin Amis the tone is mischievous and impudent." —Daily Express

"A heart-stoppingly creative debut. He snares you with a new hook every page." —Simon Rich, author of Ant Farm

"His killer irony evokes early Evelyn Waugh…the funniest new book I've read in a year or two." —Independent

"A rambunctious, deftly plotted delight." —Observer
Bloomsbury USA, 9781608196807, 256pp.
Publication Date: September 20, 2011
About the Author
Ned Beauman was born in 1985 and studied philosophy at Cambridge University. He has written for Dazed & Confused, AnOther Magazine, the Guardian, the Financial Times, and several other magazines and newspapers. He lives in London.
or
Not Currently Available for Direct Purchase