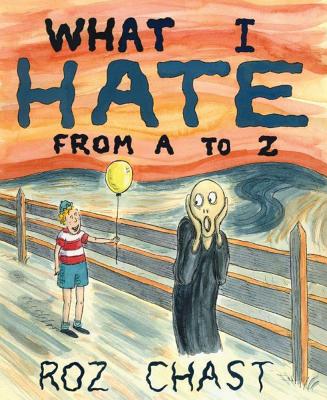 What I Hate: From A to Z (Hardcover)
From A to Z
Bloomsbury Publishing PLC, 9781608196890, 64pp.
Publication Date: October 18, 2011
Description
The pages of the" New Yorker "are hallowed ground for cartoonists, and for the last thirty years, Roz Chast has helped set the magazine's cartooning standard, while creating work that is unmistakably her own- characterized by her shaggy lines, an ecstatic way with words, and her characters' histrionic masks of urban and suburban anxiety, bedragglement, and elation.
"What I Hate" is an A to Z of epic horrors and daily unpleasantries, including but by no means limited to rabies, abduction, tunnels, and the triple-layered terror of Jell-O 1-2-3. With never-before-published, full-page cartoons for every letter, and supplemental text to make sure the proper fear is instilled in every heart, Chast's alphabetical compendium will resonate with anyone well-versed in the art of avoidance- and make an instructive gift for anyone who might be approaching life with unhealthy unconcern.
Praise for Roz Chast:
"The wacky world Roz Chast has created in her cartoons is a parallel universe to ours, utterly recognizable in all its banalities and weirdnesses, but slightly askew."-Michiko Kakutani, "New York Times"
"The wryest pen since Dorothy Parker's."-"O, the Oprah Magazine"
"Where would we be without Roz Chast?...Chast's magnificent career-spanning collection...highlights her position as master of the deep interior, of the obsessions, the baseless fears and the weird proverbs to which we cling in our desperation not to leave the house."-Susan Salter Reynolds, "Los Angeles Times," on "Theories of Everything.
About the Author
Roz Chast was born in Brooklyn, New York. Her cartoons began appearing in the New Yorker in 1978. Since then she has published hundreds of cartoons and written or illustrated more than a dozen books.
Praise For What I Hate: From A to Z…
"In this neurotic spin on the classic alphabet book, longtime New Yorker staff cartoonist Chast shares a few of her least favorite things, with each letter suggesting a horror that you may never have even considered worrying about before: G for general anesthesia, K for kites, S for spontaneous human combustion, V for vision loss... Chast's funny, fuzzy-lined drawings make even the most mundane object send chills of unease down your spine... hypochondriacs and fans of Chast's twisted sense of humor will especially rejoice." - Library Journal "With realistic, tongue-in-cheek foresight, the author spotlights a selection of the most commonplace, phobia-inducing situations (elevators, air travel, heights, etc.) and defuses them with brilliantly dry, flippant humor. A hilarious, collectively appealing index of words and pictures drawn with wry exuberance and a head-nodding relevancy." -Kirkus Reviews
"Chast's nervous cross-hatching and wiggly, double-penned lines are perfect for this catalogue of urban anxiety... Readers will find it most amusingly shocking to run across a worry they thought was uniquely theirs -- realizing that someone else has considered all the ways you could die at a carnival is perversely comforting... An entertaining, rewarding flip-through." - Publishers Weekly "An abecadarium of worry, doom, and gloom that is funny, fresh, and relatable." - Reader's Digest online
Coverage from NPR
Advertisement