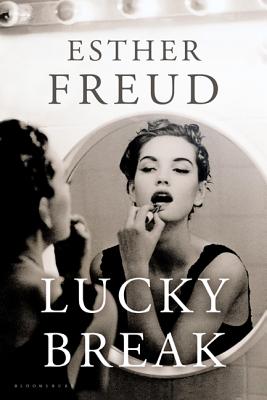 Lucky Break (Paperback)
Bloomsbury Publishing PLC, 9781608196906, 310pp.
Publication Date: November 1, 2011
* Individual store prices may vary.
or
Not Currently Available for Direct Purchase
Description
It is their first day at Drama Arts, and the nervous students huddled in a circle are told in no uncertain terms that here, unlike at any other drama school, they will be taught to Act. To Be. To exist in their own world on the stage. But outside is the real world-a pitiless, alluring place in which each of them in their most fervent dreams hopes to flourish and excel.
Nell, insecure and dumpy, wonders if she will ever be cast as anything other than the maid. She'll never compete, she knows, with the multitude of confident, long-legged beauties thronging the profession- most notably Charlie, whose effortless ascendance is nothing less than she expects. Meanwhile, Dan, ambitious and serious, has his sights fixed on the role of Hamlet, as well as on fiery, rebellious Jemma.
Over the following decade, these young actors grapple with haphazard tours, illogical auditions, unobtainable agents, deluxe trailers, rocky relationships, and red-carpet premieres. This dazzling new novel from Esther Freud uncovers a world of ruthless ambition, uncertain alliances, and the many-sided holy grail of Success.
Praise for "Summer at Gaglow" (A "New York Times "Notable Book):
"A shrewd and absorbing novel, a near-seamless meshing of family feeling, history and imagination."-"New York Times"
Praise for "Love Falls"
"Nobody else can write this well about the bravery and the sad wisdom of children. In a culture which dins with brashness and self-advertisement, attending to Esther Freud's still, truthful voice becomes not only a pleasure but a necessity."-Jonathan Coe.
About the Author
Esther Freud was born in London in 1963. She trained as an actress before writing her first novel, Hideous Kinky, which was shortlisted for the John Llewellyn Rhys Prize and made into a feature film starring Kate Winslet. Her other novels include The Sea House, Summer at Gaglow, The Wild, Peerless Flats, and most recently, Love Falls. Her books have been translated into thirteen languages.
Praise For Lucky Break…
"A superbly gifted writer… [Lucky Break is] breezily charming and typically shrewd, and comes with a new satirical edge… Freud creates relationships so fraught and delicate that at times the characters themselves can hardly bear to examine them… Freud explores them with a dazzling clarity that displays her true, writer's calling." —New York Times Book Review  "Lucky Break pierces the superficial surface of acting to reveal the enthralling, authentic drama at the heart of the business." —Newsweek Daily Beast
"Bubbly, buoyant… and just great fun… It's hard to picture a more pleasant diversion." –
Boston Globe
"Each of [Freud's] beautifully written books creates a fascinating special world, and this one—an exegesis of her acting-school years—is no exception." –
Marie Claire
"Absorbing... [Freud] captures fleeting hopes, insecurities, and self-doubts... [and] brings a touch of irony to the red carpet." - Kirkus Reviews
"Freud chronicles 14 years in the life of a group of young actors... Drawing inspiration from her early acting training, Freud finds joy and heartbreak in her winning ensemble." —
Publishers Weekly
 "I started reading
Lucky Break
. I didn't move. I just read it. Finished in one sitting." —
Antonia Fraser, author of Must You Go?
 "I loved
Lucky Break
—being taken away and plunged into that vivid group of actors... Completely authentic and enthralling" —
Michael Holroyd, author of A Strange Eventful History

Advertisement