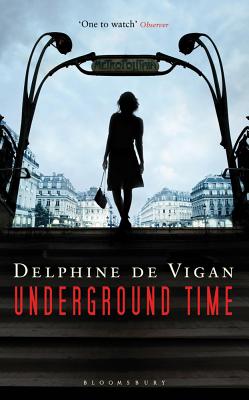 Underground Time (Paperback)
Bloomsbury Publishing PLC, 9781608197125, 257pp.
Publication Date: December 1, 2011
* Individual store prices may vary.
or
Not Currently Available for Direct Purchase
Description
Every day, Mathilde takes the Metro to her job at a large multinational, where she has felt miserable and isolated ever since getting on the wrong side of her bullying boss. Every day, Thibault, a paramedic, drives where his dispatcher directs him, fighting traffic to attend to disasters. For many of the people he rushes to treat, he represents the only human connection in their day. Mathilde and Thibault are just two figures being pushed and shoved in a lonesome, crowded city. But what might happen if these two souls, traveling their separate paths, could meet?
Delphine de Vigan tells this story of urban isolation with poetic precision and resilient humor, in the much lauded follow-up to her bestselling No and Me.
Praise for No and Me
"Thought-provoking and often poetic musings about No's life challenge readers to rethink their responsibilities to humankind...Quiet yet gripping."-Kirkus Reviews
"All ages will find much to relish in this deceptively simple tale that is touching and enlightening." -Herald (Scotland)
About the Author
Delphine de Vigan is the author of No and Me, which was a bestseller in France and was awarded the Prix des Libraires (The Booksellers' Prize) in 2008. Her other novels include Jolis Garcons and Soir de decembre. Underground Time was shortlisted for the 2009 Goncourt.George Miller is the translator of No and Me. He is also a regular translator for Le Monde diplomatique's English-language edition, and the translator of Conversations with my Gardener by Henri Cueco and Inside Al-Qaeda by Mohammed Sifaoui.
Praise For Underground Time…
Elle Reader's Prize Pick
"De Vigan keeps you going with lovely language... The book isn't just about these two strangers and what they have in common, it is about what all of us have in common, strangers or not." - Courtnay Glatter, Bust
"De Vigan's lucid take on the fragility of our purchase on happiness and the frenzied madness of our cities clearly comes through in this bracingly acerbic novel." - Kathryn Lang, Minneapolis Star Tribune
"[An] elegantly constructed, sympathetic, compelling, enjoyable novel." - Nicola Barr, Guardian
"De Vigan has beautifully captured the behind-the-scenes agendas of personal and professional lives... an engrossing, well-paced story that takes us into a world most of us know but rarely discuss." - Carol Gladstein, Booklist
"Delphine de Vigan's novel Underground Time reveals the psychological working conditions endured by 21st century corporate middle management employees and the loneliness, isolation, and anonymity of contemporary urban life in much the same way that Upton Sinclair's The Jungle exposed the hazardous working conditions of slaughterhouse workers and Theodore Dreiser's Sister Carrie portrayed sexual exploitation in urban life a century ago." - David Cooper, New York Journal of Books
Advertisement