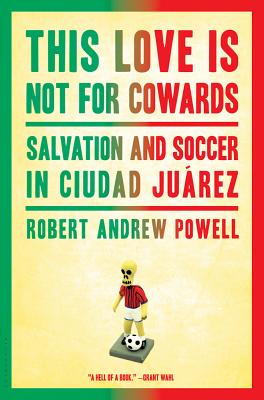 This Love Is Not for Cowards
Salvation and Soccer in Ciudad Juarez
Hardcover

* Individual store prices may vary.
Other Editions of This Title:
Paperback (4/9/2013)
Description
More than ten people are murdered every day in Ciudad Juarez, a city about the size of Philadelphia. As Mexico has descended into a feudal narco-state-one where cartels, death squads, the army, and local police all fight over billions of dollars in profits from drug and human trafficking-the border city of Juarez has been hit hardest of all. And yet, more than a million people still live there. They even love their impoverished city, proudly repeating its mantra: "Amor por Juarez."
Nothing exemplifies the spirit and hope of Juarenses more than the Indios, the city's beloved but hard-luck soccer team. Sport may seem a meager distraction, but to many it's a lifeline. It drew charismatic American midfielder Marco Vidal back from Dallas to achieve the athletic dreams of his Mexican father. Team owner Francisco Ibarra and Mayor Jose Reyes Ferriz both thrive on soccer. So does the dubiously named crew of Indios fans, El Kartel. In this honest, unflinching, and powerful book, Robert Andrew Powell chronicles a season of soccer in this treacherous city just across the Rio Grande, and the moments of pain, longing, and redemption along the way. As he travels across Mexico with the team, Powell reflects on this struggling nation and its watchful neighbor to the north. This story is not just about sports, or even community, but the strength of humanity in a place where chaos reigns.
Praise For This Love Is Not for Cowards: Salvation and Soccer in Ciudad Juarez…
"[I]n this clear-eyed and humane book Powell has succeeded in introducing his readers to a truth behind the grim and monotonous headlines." —Boston Globe
 "Terrific. Fantastic. A hell of a book. In the best tradition of literary journalism, Robert Andrew Powell finds the story we'd missed in our own backyard, using the love of soccer to reveal the humanity that survives in hyper-violent Ciudad Juárez. This is the best sports non-fiction I've read in a long, long time."—
Grant Wahl, New York Times bestselling author of The Beckham Experiment
"To call
This Love Is Not For Cowards
a sports book does it an injustice. Powell tackles a subject that actually should matter to Americans: The bloody breakdown of civic life just over the U.S. border — and the ways it can corrode even the most detached observer's soul. Daring, honest and wielding a pitch-perfect ear, he uses soccer to chart Juarez's ultra-violent anarchy the way the best correspondents chronicle war. He leaps into the devil's playground — and reports the hell out of it."—
S.L. Price, senior writer, Sports Illustrated
"The most dangerous game is believing in life. Robert Andrew Powell takes us into the most murderous city in the world, where a soccer team and its fans teach us how to live and why. This book will save your life by giving you life."—
Charles Bowden, author of Murder City
"Candid . . . Unsentimental and deeply humane."
—Kirkus Reviews
"[A]n edgy, anecdotal view of a place where 'Murder is effectively legal'… Powell captures surreal feelings of beauty and desolation, exuberance and danger. Though the Indios fail and fail big, Powell succeeds brilliantly . . . An eye-opening and unforgettable account of a part of the world that, for all its notoriety, is effectively invisible."
—Booklist (starred review)
"Much like the soccer classic The Miracle of Castel di Sangro by Joe McGinniss, Powell's work explores not only the connection between an athletic team and its fans but also one city and one community's ability to simultaneously face conditions that destroy hope and try to restore faith, and in doing so he has written not only a great sports book but also a powerful treatise on civics and human nature."—Publishers Weekly
Bloomsbury Publishing PLC, 9781608197163, 261pp.
Publication Date: February 28, 2012
About the Author
Robert Andrew Powell is the author of "We Own This Game" (Grove/Atlantic, 2003), a story of race, politics and football in Miami. The book was excerpted in Sports Illustrated; the magazine later named it one of the Best Books of 2003. His journalism has appeared in the New York Times, the New York Times Magazine, Play, Slate, Mother Jones, Inc., 5280, Sports Illustrated, Runner's World, the Kansas City Star, on public radio's "This American Life with Ira Glass," and in the "Best American Sports Writing" anthology. He also produced a documentary film, "Year of the Bull," which first aired on Showtime. He has won a James Beard Award for his food writing and twice been a finalist for the Livingston Award. He lives in Miami.
or
Not Currently Available for Direct Purchase