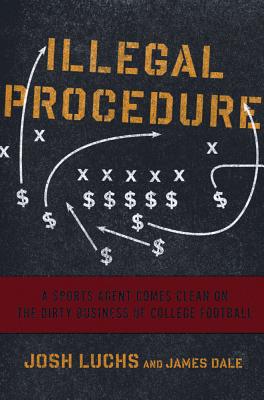 Illegal Procedure
A Sports Agent Comes Clean on the Dirty Business of College Football
Hardcover

* Individual store prices may vary.
Other Editions of This Title:
Paperback (1/8/2013)
Description
For fifteen years, sports agent Josh Luchs made illegal deals with numerous college athletes, from top-tier, nationally recognized phenoms to late-round draft picks. Flagrantly flaunting NCAA and NFL Players Association rules, he made no-interest loans to players in exchange for the promise of representation on their lucrative pro contracts. After cleaning up his act in 2003, he moved to a new agency, only to be targeted and pushed out of the business for a new violation-one he arguably did not commit. Then, in October 2010, Luchs wrote a confessional article in Sports Illustrated, telling the truth about what he did and didn't do.
Since then he has taken on a new role: whistle-blowing, truth-telling reformer. And in telling his own story, Luchs pulls back the curtain on the real economy of college football: how agents win players legally and otherwise, the staggering sums colleges make from an unpaid workforce, the shortfalls of supposed full-ride scholarships, and the myth of a college education given to scholarship jocks. Including new information about major players and scandalized programs such as USC, Auburn, and Ohio State, this book pulls no punches. It's a stunning and necessary read for anyone who loves the game, and the first step toward fixing a broken system.
Praise for Josh Luchs' Sports Illustrated story:
"There are no innocents in all this-including Luchs. The difference now is Luchs isn't claiming to be innocent." -John Feinstein, Washington Post
"[Luchs pulls] the inner workings of an oily business out of the shadows."-Pat Forde, ESPN
"A must-read."-New York Times
Praise For Illegal Procedure: A Sports Agent Comes Clean on the Dirty Business of College Football…
"Get ready for the wildest ride in sports literature. Josh Luchs takes you through two decades of what goes on behind the scenes in sports: where the money comes from, how it's handed out, where it goes, and what it means. Not only does Luchs name names, but he tells detailed stories and anecdotes. Just as the Valachi Papers helped to weaken the mob, this story may help clean up some of the shady dealings in college football. It's a must read." —John Clayton, ESPN
"With unflinching honesty and no holds barred, Illegal Procedure would be an entertaining and enlightening read at any time. Considering the NCAA scandals of the last couple years, it's now an important one also. This is the reality college sports, not the charade presented on TV." —Dan Wetzel, Yahoo Sports
"Josh Luchs dared to go where few had gone before and in the process exposed some very ugly truths about the sports agent business." —Morgan Spurlock, award-winning director of Super Size Me and The Dotted Line
"Josh Luchs' invaluable work has opened up new vistas for us as policy makers, politicians, and education and sports administrators. As we strive to protect student-athletes from exploitation, I'd like to thank Josh for doing all that he has to break this abusive cycle and to inject more integrity and honor into big-time collegiate sports." —U.S. Congressman Bobby Rush
"In my informed opinion, as someone who has experienced up-close and personal the backroom deals that occasionally pervade big-time college football, Josh's pronouncements are incontrovertible and provide an entertaining inspection of the world of the 'student athlete.'" —Brian Jones, former NFL linebacker and college football analyst, CBS Sports
"Nobody knows better than Luchs just how crooked college football is….this should be in demand." —Library Journal
"[Luchs] writes (assisted by co-author Dale) with humor [and] honesty…A troubling, entertaining indictment of the hypocrisy of big-time sports." —Kirkus Reviews
Bloomsbury USA, 9781608197200, 288pp.
Publication Date: March 27, 2012
About the Author
Josh Luchs was a sports agent from 1990-2008, before being suspended by the NFL Players' Association. He now works as in commercial real estate in Encino, CA.
James Dale has collaborated on books with Hall of Fame Pitcher Jim Palmer and renowned sports agent Ron Shapiro. His book with Johns Hopkins cardiologist Dan Munoz is forthcoming this year. He is also the author of The Obvious: Everything You Need to Know About Business. Period.
or
Not Currently Available for Direct Purchase