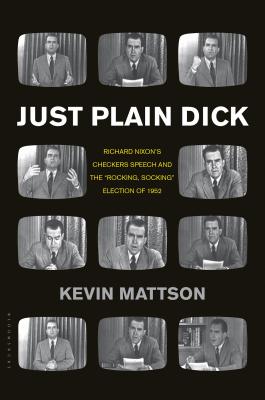 Just Plain Dick: Richard Nixon's Checkers Speech and the "Rocking, Socking" Election of 1952 (Hardcover)
Richard Nixon's Checkers Speech and the "Rocking, Socking" Election of 1952
Bloomsbury Publishing PLC, 9781608198122, 260pp.
Publication Date: September 18, 2012
* Individual store prices may vary.
or
Not Currently Available for Direct Purchase
Description
It all started with some well-meaning businessmen bankrolling Richard Nixon to become a "salesman against socialization." But in this precursor to current campaign finance scandals, Nixon had some explaining to do to keep his place on Eisenhower's Republican ticket, so he took to the airways. In making his speech, Nixon left behind lines about a "Republican cloth coat" and a black and white cocker spaniel named "Checkers."The speech saved and bolstered Nixon's political career and set the tone for the 1952 campaign.
"Just Plain Dick" is political history and more. It's the story of a young man nearing a nervous breakdown and staging a political come-back. While the narrative focuses tightly, almost cinematically, on the 1952 election cycle--from the spring primary season to the summer conventions and then to the allegations against Nixon through to the speech in September and finally the election in November--Mattson also provides a broad-stroke depiction of American politics and culture during the Cold War.
With publication scheduled during the 2012 election season, readers will see Nixon's contribution to current campaign styles. Here is a story of phony populism, a hatred of elites (tagged "eggheads" back then), and emotionally charged appeals erasing a rational assessment of a politician's qualifications. An entertaining and suspenseful read, "Just Plain Dick" provides ideal election context for political junkies and for those with a fascination for 1950s America.
About the Author
Kevin Mattson is the Connor Study Professor of Contemporary History at Ohio University. He is the author of Rebels All!, When America Was Great, Upton Sinclair and the Other American Century, Intellectuals in Action, and "What the Heck Are You Up To, Mr. President?" Mattson writes for the American Prospect, Dissent, the Nation, the New York Times Book Review, the Washington Post Book World, and many other publications.
Praise For Just Plain Dick: Richard Nixon's Checkers Speech and the "Rocking, Socking" Election of 1952…
"Mattson's excellent book is a timely companion to the current election season." —Kirkus Reviews (starred review)
"Mattson's portrait of a crusading, emotional Nixon on the verge of victory colors in all the campaign's background details, including relevant pop culture detours and digressions, from Hedda Hopper and Lucille Ball to the hole in Adlai Stevenson's shoe." —Publishers Weekly
"Mattson's book will appeal to historians, politicians, politics buffs, and those interested in the impact of television on the electorate." —Library Journal
"Mattson, the author of six fine books on politics and intellectual history, contends that the speech transformed not only the 1952 election but also American political culture... Eisenhower and Nixon's 1952 campaign was an important contributor to unfortunate development[s for which] we are still paying the price... today." —Boston Globe
Advertisement