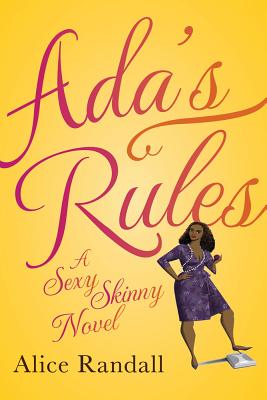 Ada's Rules (Hardcover)
A Sexy Skinny Novel
Bloomsbury Publishing PLC, 9781608198276, 335pp.
Publication Date: April 24, 2012
* Individual store prices may vary.
Description
Ada Howard, the wife of the preacher at Nashville's Full Love Baptist Tabernacle, has a whole lot of people to take care of. There's her husband, of course, and the flock that comes with him, plus the kids at the day care where she works, two grown daughters, and two ailing parents. It's no wonder she can't find time to take care of herself. And her husband's been so busy lately she's suspicious some other woman may be taking care of him ...
Then it comes: the announcement of her twenty-five-year college reunion in twelve months' time, signed with a wink by her old flame. Ada gets to thinking about the thrills of young love lost, and the hundred or so pounds gained since her college days, and she decides it's high time for a health and beauty revival. So she starts laying down some rules. The first rule is: Don't Keep Doing What You've Always Been Doing. And so begins a long journey on the way to less weight and more love.
Ada's Rules will hit a nerve in our overweight and weight-obsessed world. An inspiring role model, Ada is also a relatable everywoman: smart, sassy, soulful, and unforgettable. Her hard-earned rules are about changing a body and a life-and also about falling back in love with the life you have.
About the Author
Alice Randall was born in Detroit, grew up in Washington, D.C., and graduated from Harvard. She is the author of the New York Times bestseller The Wind Done Gone, Pushkin and the Queen of Spades, and Rebel Yell. She is also an award-winning songwriter, and the first black woman in history to write a number one country song. Randall lives with her husband in Nashville and is currently writer-in-residence at Vanderbilt University. Like Ada, she's done battle with her weight and won.
Praise For Ada's Rules: A Sexy Skinny Novel…
"For sweet, sexy, and strong moms…intoxicating…deliciously satisfying…" –Essence
"It is impossible not to fall in love with the plucky plus-size heroine of bestselling author Randall's fourth outing… A heartwarming and engaging read, Ada's story is more than that—readers following Randall's rules will drop the pounds along with Ada, and perhaps discover something about themselves." -
Publishers Weekly, starred review
"[Randall's] keen observations of black culture and the human condition impart a true celebration of aging, health, and beauty in the context of one woman's life…Randall is sure to draw plenty of attention." -
Booklist
"This isn't a diet book, and it's not a self-help title either. However, this new novel by the author of the
New York Times
best-selling
The Wind Done Gone
could be either (or both), as it follows the attractive yet overweight Ada Howard through her weight-loss journey.... Randall's honesty on life and change is refreshing, especially as she introduces characters who test and embolden Ada. A seemingly minor character offers the greatest moment of this novel; his story, woven almost imperceptibly into the narrative, shows the strength of Randall's storytelling. Randall takes an ordinary weight-loss story and creates timeless personalities, demonstrating the challenges that we all face when reaching for a goal" -
Library Journal
"
Ada's Rules
might be a diet book disguised as a novel, and it might be a novel disguised as a diet book, but I guarantee it will make you laugh and make you think, while it nudges you oh-so-gently in the direction of a brand new way to think about and celebrate your body." —
Pearl Cleage, author of What Looks Like Crazy on an Ordinary Day
"
Ada's Rules
is a modern love song to women, to men, to the bodies we all inhabit through tasting, loving, cooking, nurturing, and aging. No one is too old or too young, too heavy or too lean, to absorb the wisdom of Ada's insights about embracing our histories, writing our own, and nurturing the bodies that allow us to fashion the lives we want to live. Alice Randall does it all with humor, gumption, savvy and compassion. Ada is here: reach out and read her!" —
Jayne Anne Phillips, author of Lark and Termite
"Alice Randall's
Ada's Rules
is a story about bodies—about the stories we tell ourselves about them, and the narratives they shape for us, and the ways in which they are shaped by politics and history and culture.
Ada's Rules
is a sharp, poignant book about the emotionally fraught war that Ada has with herself and her body, but is ultimately about the struggle all of us undergo—to cross the gulf between the people we are and the people we want to be—and the way we learn to patch together a useful guidebook by taking the best wisdom that we can find from every source we encounter." —
Danielle Evans, author of Before You Suffocate Your Own Fool Self
"Ada's Rules is a novel for anyone who has ever wanted to take control of her life. With loveable characters, whip-smart dialogue, and a plot that will leave you breathless, Alice Randall has written a story about how we really live. There is love on these pages— tough love, but tender at the same time. Ada's Rules is a novel about the way people genuinely change their lives." —Tayari Jones, author of Silver Sparrow
or
Not Currently Available for Direct Purchase