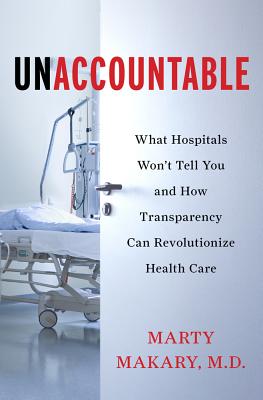 Unaccountable (Hardcover)
What Hospitals Won't Tell You and How Transparency Can Revolutionize Health Care
Bloomsbury Press, 9781608198368, 256pp.
Publication Date: September 18, 2012
Other Editions of This Title:
Paperback (10/15/2013)
* Individual store prices may vary.
Description
Dr. Marty Makary is co-developer of the life-saving checklist outlined in Atul Gawande's bestselling The Checklist Manifesto. As a busy surgeon who has worked in many of the best hospitals in the nation, he can testify to the amazing power of modern medicine to cure. But he's also been a witness to a medical culture that routinely leaves surgical sponges inside patients, amputates the wrong limbs, and overdoses children because of sloppy handwriting. Over the last ten years, neither error rates nor costs have come down, despite scientific progress and efforts to curb expenses. Why?
To patients, the healthcare system is a black box. Doctors and hospitals are unaccountable, and the lack of transparency leaves both bad doctors and systemic flaws unchecked. Patients need to know more of what healthcare workers know, so they can make informed choices. Accountability in healthcare would expose dangerous doctors, reward good performance, and force positive change nationally, using the power of the free market. Unaccountable is a powerful, no-nonsense, non-partisan diagnosis for healing our hospitals and reforming our broken healthcare system.
About the Author
Marty Makary, M.D., M.P.H. is a surgeon at Johns Hopkins Hospital and a professor of Health Policy at the Johns Hopkins School of Public Health. He is a regular medical commentator for CNN and FOX News, and appears weekly on a wide variety of programs to discuss health topics. Most recently he appeared on FOX News Reporting: BEWARE! DANGER AT THE DOCTOR. He is a leading patient-safety researcher and led the World Health Organization effort to develop ways to measure healthcare quality. He tweets @DrMartyMD.
Praise For Unaccountable: What Hospitals Won't Tell You and How Transparency Can Revolutionize Health Care…
"A startling revelation of the dysfunction deeply embedded in the very culture of American medical practice, problems that health care reform scarcely begins to address." —Peter Boyer, senior correspondent for Newsweek
"A searing indictment from the inside, arguing that the modern health-care industry, unlike almost every other, doesn't disclose its performance or pricing practices to the public and keeps under wraps information about mistakes and substandard quality." —Laura Landro, The Wall Street Journal
"Makary's diagnosis is dangerous, damaging secrecy; his therapy is radical transparency…. [Makary's] argument is powerful…. [he] makes a strong case that the system we have is a disaster for patients." —Trine Tsouderos, Chicago Tribune Printers Row
"A very readable, thought-provoking book that will be of interest to health-care consumers, providers, and legislators. The problems pointed out and the solutions suggested deserve to be part of a national discussion." —Richard Maxwell, Porter Adventist Hospital Library, Denver, Library Journal
"Makary's book makes it perfectly clear that data transparency not only allows people to make informed decisions about their health but also nudges hospitals and physicians to be more vigilant and efficient." —Tony Miksanek, Booklist
"You will be a wiser health consumer for reading this book." —Michael E Johns, M.D., Chancellor, Emory University
"This thought-provoking guide from a leader in the field is a must-read for M.D.s, and an eye-opener for the rest of us." —Publishers Weekly
"Unaccountable is a gripping story about what's wrong with the American healthcare system and what we might do to make it better." —Peter Pronovost MD, PhD, Executive Vice-President, Johns Hopkins Hospital
"Every once in a while a book comes along that rocks the foundations of an established order that's seriously in need of being shaken. The modern American hospital is that establishment and Unaccountable is that book." —Shannon Brownlee, author of Overtreated
"A galvanizing book full of shocking truths about the current state of health care." —Kirkus Reviews
or
Not Currently Available for Direct Purchase