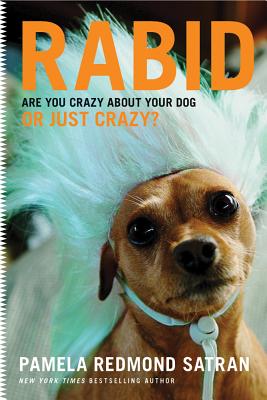 Rabid (Hardcover)
Are You Crazy about Your Dog or Just Crazy?
Bloomsbury Publishing PLC, 9781608198375, 164pp.
Publication Date: October 16, 2012
* Individual store prices may vary.
or
Not Currently Available for Direct Purchase
Description
Dogs now dominate the $55 billion a year pet business, with nearly 40 percent of American households owning a total of 78.2 million dogs. Dog products, dog services, dog admiration--okay, let's call it dog worship--has become totally over the top, with doggie treadmills, dog swimming pools, caffeine-free doggie java, dog massage, dog perfume, aromatherapy, hair coloring, and, yes, dog tattoos that would have seemed outlandish a generation ago when applied to your everyday household Rover.
But Rover isn't called Rover anymore: he's called Rufus. Or Lola, according to the Tumblog Hipster Puppies. In fact, all Top Ten Dog Names are people names. And the canine Rufus doesn't stay home alone all day; he goes to Doggie Daycare. Eats brightly frosted martini-shaped doggie treats. Wears designer tutus. Gets married on the beach. Has...
Well, you'll see. With hilarious full-color photos throughout, Rabid holds a humorous mirror up to our dog-centered society, helping us laugh at our own behavior and at the even-more-insane antics of all those other dog people.
About the Author
Pamela Redmond Satran is the author of the New York Times bestselling humor book How Not to Act Old, optioned by DreamWorks. She is also the author of seven novels and the coauthor of eight baby name books, including the bestselling Beyond Jennifer & Jason. Satran is a columnist for Glamour and contributes frequently to such publications as the Daily Beast, the New York Times, and More magazine. She lives in Montclair, NJ. Visit her website at pamelaredmondsatran.com.
Praise For Rabid: Are You Crazy about Your Dog or Just Crazy?…
"An essential book for all dog owners, and for all dogs reading at or above grade level." –Ian Frazier
"Whether you participate in dog-madness yourself, or just shake your head at your neighbors' absurd behavior, Rabid will have you laughing out loud. It's funny because it's true." –Gretchen Rubin, New York Times-bestselling author of The Happiness Project
"Pam Satran's Rabid is very funny, but it is also more than that. It is a penetrating look at the sometimes over-the-top emotional insanity of dog-loving Americans,  fueled by our ever- growing love for dogs. Rabid makes us think about this, which is valuable, even as we laugh, which is even more valuable. Every dog lover will smile and squirm a bit reading Rabid, and perhaps see their own reflections in the mirror." –Jon Katz, bestselling author of The Dogs of Bedlam Farm
"Hilariously reported." –Reader's Digest
"If you love your dog, or if you know someone who does, this book is the cat's meow." –Parents.com
"The perfect book for all readers who have ever wondered if they have gone overboard in pampering their dog." –Library Journal
"Dog lovers, whether in denial or proud acceptance, will read Rabid with delight. A definitive history of dog adoration." --Shelf Awareness
"A humorous look at our dog-obsessed society...As Satran point out, no matter how crazy we may have gotten about our dogs, there are always others out there who are even crazier, and this book will help pinpoint where on thee dog-crazy spectrum we lie."--Booklist
"A comparison between the merits of dogs versus kids might just be worth the price of admission."--Publishers Weekly
Advertisement