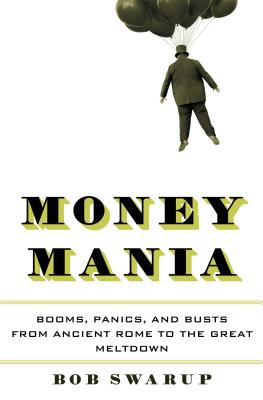 Money Mania
Booms, Panics, and Busts from Ancient Rome to the Great Meltdown
Hardcover

* Individual store prices may vary.
Description
Money Mania is a sweeping account of financial speculation and its consequences, from ancient Rome to the Meltdown of 2008. Acclaimed journalist and investor Bob Swarup tracks the history of speculative fevers caused by the appearance of new profitable investment opportunities; the new assets created and the increasing self-congratulatory euphoria that drives them to unsustainable highs, all fed by an illusion of insight and newly minted experts; the unexpected catalysts that eventually lead to panic; the inevitable crash as investors scramble to withdraw their funds from the original market and any other that might resemble it; and finally, the brevity of financial memory that allows us to repeat the cycle without ever critically evaluating the drivers of this endless cycle.
In short, it is the story of what makes us human.
Praise For Money Mania: Booms, Panics, and Busts from Ancient Rome to the Great Meltdown…
"Swarup's book is a rich, anecdote-driven account … It's a much needed dose of common sense and old-school philosophy… a great romp through the history of financial crises...a strikingly original writer." —Bookforum

"Money Mania presents a rigorously researched history packed with great stories and insights. Swarup takes the reader through a fascinating and thought provoking analysis of emotional biases, money, credit and social complexity. Financial manias and panics are a rhythmic feature of the collective human experience, with societal consequences correlated to the degree of economic integration and financialization. The vexing question for every serious investor today is whether our uniquely complex modern society is at risk of another systemic crisis. Money Mania is a timely, well written reminder that this question should be given renewed priority." —Paul Tudor Jones, founder of the Tudor Investment Corporation and the Robin Hood Foundation
Bloomsbury Press, 9781608198412, 320pp.
Publication Date: February 25, 2014
About the Author
Bob Swarup is a respected investor, thought leader and commentator on financial markets, investments and regulation. Born in India in 1977, he was educated in England. He holds an MA from the University of Cambridge, two Master degrees, and a Phd in cosmology from Imperial College London. He has managed investments at financial institutions, sat on the boards of hedge funds and private equity firms, worked closely with leading think tanks, advised policymakers and industry alike, and is an award-winning journalist. He lives in London.
or
Not Currently Available for Direct Purchase