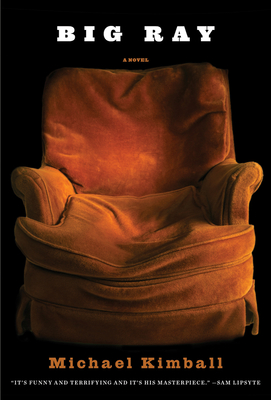 Big Ray
Hardcover

* Individual store prices may vary.
Other Editions of This Title:
Paperback (6/18/2013)
Description
Big Ray's temper and obesity define him. When Big Ray dies, his son feels mostly relief, dismissing his other emotions. Yet years later, the adult son must reckon with the outsized presence of his father's memory. This stunning novel, narrated in more than five hundred brief entries, moves between past and present, between his father's death and his life, between an abusive childhood and an adult understanding. Shot through with humor and insight that will resonate with anyone who has experienced a complicated parental relationship, Big Ray is a staggering family story-at once brutal and tender, sickening and beautiful.
Praise For Big Ray…
"[An] astonishingly moving novel... We're left gasping for air... Danny's emotions unfold as slowly as the carefully dispensed facts of the story, and to mesmerizing effect... Big Ray is an appalling tale told with anger, dark humor and surprising tenderness." —Alec Solomita, Wall Street Journal
 "In this tender, gorgeous novel, Michael Kimball explores how we try to understand even the most difficult family members."—Leigh Newman, Oprah.com
"[Big Ray is] a great character... He's dead at the start of the novel, and it's impossible not to wish him deader... Mr. Kimball is not one to flinch, and this portrayal is the better for it." —Susannah Meadows, New York Times
"This plainspoken novel about a man coming to terms with his abusive father's death sneaks up on you—and is unlike anything else you've read."—Dawn Raffel, Reader's Digest
"[Big Ray] reads like a memoir, the entirely believable product of a son grappling with the death and life of his father. The narrator talks frankly of his estrangement and efforts to connect, the abuse he suffered and his mixed feelings; the obituary, he notes, listed those who preceded Ray in death and those who survived him. 'I'm one of the people who survived,' says Big Ray's son. Kimball shows the truth of this, but also its sad, shifting complexity."—Publishers Weekly
"This slim novel, told in a series of short entries, packs the emotional charge of a lifetime."—Heather Paulson, Booklist
"Surpassing the simply grotesque, Kimball's story takes on something of a redemptive, Job-like intensity…. Kimball's short, bleak novel may not tell a pretty story, but it is a well-told story that is not easy to forget."—Bruce Jacobs, Shelf Awareness 
"The search here is for understanding... The writing is elegantly straightforward." - Robert E. Brown, Library Journal
"BIG RAY's power is unquestionable; its ability to draw out gut-wrenching emotions by way of plainspoken observations is the ace up its sleeve."—Ian F. King, KGB Bar Lit Magazine
"Michael Kimball has been writing innovative, compelling and beautifully felt books for years, but Big Ray seems a break-through and culmination all at once. It's funny and terrifying and it's his masterpiece, at least so far."—Sam Lipsyte, author of The Ask
 "An uncompromising work of power and grace. I finished reading it a week ago, but I still can't put it down."—Jon McGregor, author of This Isn't the Sort of Thing That Happens to Someone Like You
"Elegy, meditation, story, final reckoning—whatever you want to call it, Big Ray is mesmerizing. Sorrowful and honest, the kind of book that compels, not compromises."—Deb Olin Unferth , author of Revolution
"Big Ray is disturbing in the most extraordinary ways, and in the end extraordinarily touching also. There's nothing quite like it I've ever read till now (though there were times I thought the ghost of Barry Hannah was whispering in my ear.) It's amazing."—Madison Smartt Bell, author of All Souls' Rising
Bloomsbury Publishing PLC, 9781608198542, 185pp.
Publication Date: September 4, 2012
About the Author
Michael Kimball is the author of The Way the Family Got Away, Dear Everybody, and, most recently, Us, and his novels have been translated into a dozen languages. His work has been featured on NPR's All Things Considered and in the Guardian, Vice, Bomb, and New York Tyrant. He is also responsible for the project Michael Kimball Writes Your Life Story (on a postcard) and a couple of documentary films. He lives in Baltimore. Visit his website at michael-kimball.com
or
Not Currently Available for Direct Purchase