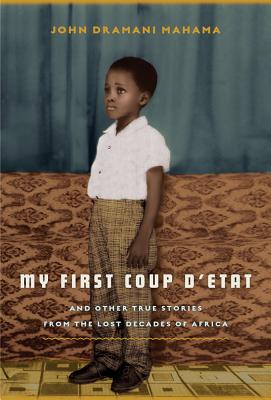 My First Coup d'Etat (Hardcover)
And Other True Stories from the Lost Decades of Africa
Bloomsbury USA, 9781608198597, 336pp.
Publication Date: July 3, 2012
Other Editions of This Title:
Paperback (5/14/2013)
* Individual store prices may vary.
Description
My First Coup D'Etat chronicles the coming-of-age of John Dramani Mahama in Ghana during the dismal post-independence "lost decades" of Africa. He was seven years old when rumors of a coup reached his boarding school in Accra. His father, a minister of state, was imprisoned for more than a year.
My First Coup D'Etat offers an intimate look at the country that has long been considered Africa's success story. This is a one-of-a-kind book: Mahama's is a rare literary voice from a political leader, and his personal stories work on many levels--as history, as cultural and political analysis, as fables, and, of course, as the memoir of a young man who, unbeknownst to him or anyone else, would grow up to be president of his nation. Though non-fiction, these are stories that rise above their specific settings and transport the reader into a world all their own, one which evokes a time lost and explores the universal human emotions of love, fear, faith, despair, loss, longing, and hope despite all else.
About the Author
John Dramani Mahama is a writer, historian, journalist, former member of Parliament and minister of state, and sitting president of the Republic of Ghana. This is his first book. He lives in Accra with his family and is currently at work on his second book.
Praise For My First Coup d'Etat: And Other True Stories from the Lost Decades of Africa…
"A graceful memoir and striking literary debut…A collection of remarkable vignettes that blend a historian's sensibility with a novelist's prose, Mahama captures the evolution of that consciousness and, with it, glimpses of a nation's recovered soul." —Washington Post
"This is no typical political memoir. Rather it is the engaging story of a boy coming of age in the "lost decades" of military rule in Ghana that preceded multiparty democracy. Mahama tells it tenderly and well, weaving small slices of history and culture into a family narrative so rich in colour it at times feels like magical realism… Mahama has given us a useful reminder of the bad old days yet the real value of his book lies in its depiction of ordinary life in a time of turmoil – and of how people adapt and carry on regardless." —Financial Times
"Mr. Mahama is at his best in describing this vanished world. He does so with the eye of a historian and the flair of a novelist…At times the lost world he describes seems almost magical, as if it were populated by fairies and demons rather than real people… His stories overflow with humanity." —Wall Street Journal
"With crisp yet sweeping prose, John Mahama's memoir, My First Coup d'Etat, provides insights into Ghana's, and by extension, Africa's struggle to weather its historical burden and engage with a world much removed from her dilemma. Without sentimentality or condescension, he exposes homegrown African pathologies and helps us understand several contradictions of our postcolonial condition. His is a much welcome work of immense relevance to African studies and deserves serious critical attention." —Chinua Achebe
"These stories reminded me of Isaac Bashevis Singer, whose memories of a vanished world feel half like memoir and half like fairy tale. Readers will be charmed by them. They brim with humanity." —Andrew Solomon, author of the National Book Award–winning The Noonday Demon
"Eloquent" —Newsweek
"My First Coup d'Etat shows an uncommon literary ambition . . . His elegant memoir of those crucible decades lets us see the times that forged his generation as more than just a succession of defaults and dictators." —newrepublic.com
"Affecting and revealing…Ghanaian readers might see this memoir by a current officeholder as a political instrument; others will mainly enjoy the well-crafted anecdotes and images of an Africa that no longer exists." —Foreign Affairs
"Mahama's stories lure the reader into an unforgettable journey in which he interacts with history as a living tissue. The characters and the episodes are part of the everyday but one imbued with magic and suggestive power that go beyond the concrete and the palpable to hint at history in motion." —Ngugi wa Thiong'o, author of Weep Not, Child
"Warm and engaging. The view of a complex world in microcosm." —Aminatta Forna, author of the Commonwealth Book Prize–winning The Memory of Love
"In fluid, unpretentious style, Mahama unspools Ghana's recent history via entertaining and enlightening personal anecdotes." —Publishers Weekly
"Sensitive, honest autobiographical essays… A wonderfully intimate look at the convulsive changes, and deep scarring, in post-colonial Africa." —Kirkus Reviews
or
Not Currently Available for Direct Purchase