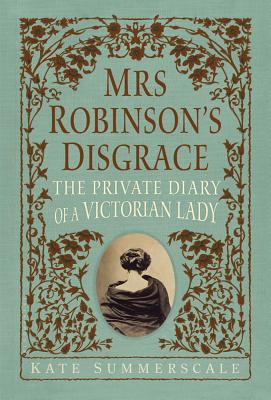 Mrs. Robinson's Disgrace
The Private Diary of a Victorian Lady
Hardcover

* Individual store prices may vary.
Other Editions of This Title:
Digital Audiobook (6/18/2012)
Paperback (5/21/2013)
MP3 CD (6/19/2012)
Compact Disc (6/19/2012)
MP3 CD (6/19/2012)
Compact Disc (6/19/2012)
Compact Disc (6/19/2012)
Hardcover (4/1/2012)
Description
"I think people marry far too much; it is such a lottery, and for a poor woman--bodily and morally the husband's slave--a very doubtful happiness." -Queen Victoria to her recently married daughter Vicky

Headstrong, high-spirited, and already widowed, Isabella Walker became Mrs. Henry Robinson at age 31 in 1844. Her first husband had died suddenly, leaving his estate to a son from a previous marriage, so she inherited nothing. A successful civil engineer, Henry moved them, by then with two sons, to Edinburgh's elegant society in 1850. But Henry traveled often and was cold and remote when home, leaving Isabella to her fantasies.

No doubt thousands of Victorian women faced the same circumstances, but Isabella chose to record her innermost thoughts-and especially her infatuation with a married Dr. Edward Lane-in her diary. Over five years the entries mounted-passionate, sensual, suggestive. One fateful day in 1858 Henry chanced on the diary and, broaching its privacy, read Isabella's intimate entries. Aghast at his wife's perceived infidelity, Henry petitioned for divorce on the grounds of adultery. Until that year, divorce had been illegal in England, the marital bond being a cornerstone of English life. Their trial would be a cause celebre, threatening the foundations of Victorian society with the specter of "a new and disturbing figure: a middle class wife who was restless, unhappy, avid for arousal." Her diary, read in court, was as explosive as Flaubert's Madame Bovary, just published in France but considered too scandalous to be translated into English until the 1880s.

As she accomplished in her award-winning and bestselling The Suspicions of Mr. Whicher, Kate Summerscale brilliantly recreates the Victorian world, chronicling in exquisite and compelling detail the life of Isabella Robinson, wherein the longings of a frustrated wife collided with a society clinging to rigid ideas about sanity, the boundaries of privacy, the institution of marriage, and female sexuality.
Praise For Mrs. Robinson's Disgrace: The Private Diary of a Victorian Lady…
"This is the golden age of narrative nonfiction, and Summerscale does it better than just about anyone." —Laura Miller of Salon.com on NPR's "Weekend Edition Sunday"

"You'll find Fifty Shades of Grey on beaches everywhere... but the story of Mrs. Robinson deserves a place on summer reading lists. She is pretty hot stuff." —The Boston Globe

"Summerscale unspools the Robinsons' tale with flair in Mrs. Robinson's Disgrace, but it's her social history of marriage that's really riveting. Grade: A" —Tina Jordan, Entertainment Weekly

"[Kate Summerscale] prods, scrutinizes and examines, employing a real-life historical episode to shed light on Victorian morality and sensibilities . . . The end of the court case is surprising, and to give it away would be an insult to Summerscale's cleverly constructed narrative. But she stresses that one thing is clear: the diary 'may not tell us, for certain, what happened in Isabella's life, but it tells us what she wanted.'" —Andrea Wulf, The New York Times Book Review

"Kate Summerscale--perfectly at home in the 19th century, as evidenced in 2008's The Suspicions of Mr. Whicher, her grisly but addictively readable tale of an 1860 murder investigation--blends cultural history with all the elements of a doomed love story in her tale of a real-life Madame Bovary . . . Isabella emerges, regardless of the verdict, as the most fascinating of characters, her pride not trampled in the face of a defense that called for her to proclaim herself a sex maniac rather than an adulterer. Not much of a choice, but she still came out on top." —Jordan Foster, NPR.org

"Summerscale engages with her material in such a psychologically rich manner, an added bonus feature, as it were, given that the original story is already so fascinating in itself . . . Mrs. Robinson's Disgrace is a glorious evocation of both one woman's inner world, her hopes, dreams, disappointments and desires, and her outer one in the form of the painstakingly researched Victorian world she inhabits where a multitude of new ideas are threatening traditional conventional values . . . [A] captivating read which will surely catapult its heroine into the same limelight as her detective predecessor." —Lucy Scholes, The Daily Beast

"Mrs. Robinson's Disgrace is far more than the account of a failed marriage and its aftermath--or even the story of a torrid affair, imaginary or otherwise. In the manner of her prize-winning The Suspicions of Mr Whicher, Kate Summerscale takes the records and reports of the court case and treats them like a detective story, skillfully building up the suspense and using the interstices in her main narrative--when the judges retire to consider their verdict, for instance--to digress into the highways and byways of Victorian life." —Virginia Rounding, Financial Times

"[Isabella Robinson's] is a sad story, but Summerscale tells it with sympathy and understanding. She sees Isabella as a British Madame Bovary, whose story Gustave Flaubert was setting down in his great novel even as Isabella's story was unfolding. She also sees Isabella as a transitional figure in women's slow and difficult progress from repression and exploitation to the liberation that in time emerged. The evidence Summerscale presents suggests that this is a fair interpretation." —Jonathan Yardley, The Washington Post

"This nonfiction account of the divorce of Isabella and Henry Robinson in 1858 is an elegantly rendered portrait of marriage, class and hypocrisy in Victorian Britain." —Cynthia Crossen, WSJ.com's "Dear Book Lover" blog

"With intelligence and graceful prose, Summerscale gives an intimate and surprising look into Victorian life." —Publishers Weekly (starred review)

"Mrs. Robinson's Disgrace tells us far more than the story of one reckless woman born before her time. It navigates the cloudy waters of marital law, Victorian sexuality, and the burgeoning women's liberation movement. The diary may have ruined Isabella Robinson, but Mrs. Robinson's Disgrace has the power to vindicate her." —Hillary Kelly, Bookforum.com

"Not just a scandalous diary, but a portrait of the plight of women in the early Victorian era . . . A revealing portrait of the straight-laced Victorians." —Kirkus Reviews

"Following the pattern of her previous book The Suspicions of Mr. Whicher, Summerscale combines a thorough examination of her topic with a wider view of relevant social issues--in this case, Victorian attitudes toward marriage, divorce, and the figure of the unhappy housewife. A deft unraveling of a little-known scandal that should appeal to any reader interested in women's history or the world behind the facade of the Victorian home." —Kathleen McCallister, Library Journal

"Romance and repression abound as a Victorian matron's innermost secrets are revealed in court via her private diary…. Summerscale does a nice job of placing both the case and the diary firmly into historical and sociological contexts." —Margaret Flanagan, Booklist

"Readers who complain that history is boring have never read Kate Summerscale . . . If you want historical accuracy and excellent research, grab the Summerscale." —Yvonne Zip, The Christian Science Monitor
Bloomsbury USA, 9781608199136, 320pp.
Publication Date: June 19, 2012
About the Author
Kate Summerscale is the author of the bestselling books The Queen of Whale Cay and The Suspicions of Mr. Whicher. She lives in London with her son.
or
Not Currently Available for Direct Purchase