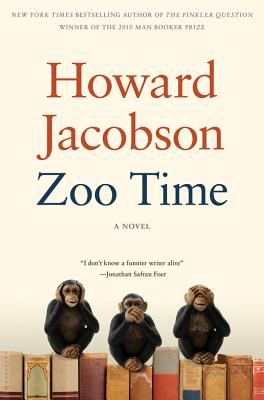 Zoo Time (Hardcover)
A Novel
Bloomsbury USA, 9781608199389, 384pp.
Publication Date: October 16, 2012
Other Editions of This Title:
Paperback (10/22/2013)
* Individual store prices may vary.
Description
Novelist Guy Ableman is in thrall to his vivacious wife Vanessa, a strikingly beautiful red-head, contrary, highly strung and blazingly angry. The trouble is, he is no less in thrall to her alluring mother, Poppy. More like sisters than mother and daughter, they come as a pair, a blistering presence that destroys Guy's peace of mind, suggesting the wildest stories but making it impossible for him to concentrate long enough to write any of them.
Not that anyone reads Guy anyway. Not that anyone is reading anything. Reading, Guy fears, is finished. His publisher, fearing the same, has committed suicide. His agent, like all agents, is in hiding. Vanessa, in the meantime, is writing a novel of her own. Guy doesn't expect her to finish it, or even start it, but he dreads the consequences if she does.
In flight from personal disappointment and universal despair, Guy wonders if it's time to take his love for Poppy to another level. Fiction might be dead, but desire isn't. And out of that desire he imagines squeezing one more great book.
By turns angry, elegiac, and rude, Zoo Time is a novel about love-love of women, love of literature, love of laughter. It shows our funniest writer at his brilliant best.
About the Author
An award-winning writer and broadcaster, Howard Jacobson is the acclaimed author of The Mighty Walzer (winner of the Bollinger Everyman Wodehouse Prize), Kalooki Nights (longlisted for the Man Booker Prize), No More Mr. Nice Guy, The Act of Love, and, most recently, the Man Booker Prize-winning The Finkler Question. He lives in London.
Praise For Zoo Time: A Novel…
"Outlandish, fueled by rage, very much like a brilliant comic stand-up routine… a comic novel of ideas." —The New York Times Book Review
"Anyone who appreciates strong, clever writing will find much to enjoy [in Zoo Time]. [Jacobson] is a confident, gifted writer who can make points with panache." —Houston Chronicle
"Funny and elegiac at once." —Kirkus Reviews
"Howard Jacobson's prose is hilarious…this literary novel about the death of the literary novel sounds comedy's depths of sorrow." —Cleveland Plain Dealer
"Just because most of us don't fantasize continuously about ditching our wives for our mothers-in-law doesn't mean it's not an excellent premise for a novel. …entertaining — and biting — to the final twist." —The Forward
"[A]wickedly funny satire of publishing…It is always a joy to read Jacobson's prose, whose beguilingly casual tone belies its meticulous construction. This newest work confirms yet again his singular ability to weave comedy, sex, ideas, and deep insight into irresistible storytelling." —Jewish Book World
Coverage from NPR
or
Not Currently Available for Direct Purchase