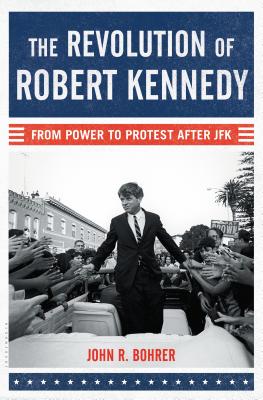 The Revolution of Robert Kennedy (Hardcover)
From Power to Protest After JFK
Bloomsbury Press, 9781608199648, 384pp.
Publication Date: June 6, 2017
Other Editions of This Title:
MP3 CD (2/20/2018)
* Individual store prices may vary.
Description
A groundbreaking account of how Robert F. Kennedy transformed horror into hope between 1963 and 1966.
On November 22nd, 1963, Bobby Kennedy received a phone call that altered his life forever. The president, his brother, had been shot. JFK would not survive.
In The Revolution of Robert Kennedy, journalist John R. Bohrer focuses in intimate and revealing detail on Bobby Kennedy's life during the three years following JFK's assassination. Torn between mourning the past and plotting his future, Bobby was placed in a sudden competition with his political enemy, Lyndon Johnson, for control of the Democratic Party. No longer the president's closest advisor, Bobby struggled to find his place within the Johnson administration, eventually deciding to leave his Cabinet post to run for the U.S. Senate, and establish an independent identity. Those overlooked years of change, from hardline Attorney General to champion of the common man, helped him develop the themes of his eventual presidential campaign.
The Revolution of Robert Kennedy follows him on the journey from memorializing his brother's legacy to defining his own. John R. Bohrer's rich, insightful portrait of Robert Kennedy is biography at its best--inviting readers into the mind and heart of one of America's great leaders.
About the Author
John R. Bohrer is a reporter, historian, and television news producer. He has helped produce high-profile interviews, including with nearly every major 2016 presidential candidate. His research has been cited by the New York Times, the Washington Post, and the Boston Globe. His writing has appeared in New York magazine, The New Republic, Politico, and USA Today, among others. The Revolution of Robert Kennedy is his first book. He lives in Brooklyn, New York.
Praise For The Revolution of Robert Kennedy: From Power to Protest After JFK…
"Bohrer's book, which covers the period of RFK's life from November 1963 to June 1966, is tightly packed with detail, much of it fascinating and even moving. It will satisfy the Kennedy true believers and interest students of politics." - The Washington Post
"The bookshelves already groan with Kennedy titles, but Mr. Bohrer makes a worthy contribution by examining a critical chapter in Robert Kennedy's public life, the period from 1963 to 1966 . . . Mr. Bohrer ably captures Kennedy at his lowest moment, far from Camelot, as he traveled the world, took public-speaking lessons, overcame his fear of crowds and grappled with JFK's legacy." - The Wall Street Journal
"This well-researched narrative details Robert Kennedy's life in the three years that followed his brother John's assassination, as he grappled with extreme grief, competed with his rival Lyndon B. Johnson, and tried to figure out his next political move." - The New York Post
"Mr. Bohrer proves that the personal is political, showing readers how Bobby Kennedy's evolution from shadow to savior was, in fact, revolutionary… how Bobby Kennedy, who aged a lifetime in three years, grew from the president's brother to a man who might have become the president himself." - Rachel Treisman, Pittsburgh Post-Gazette
"Jack Bohrer has brought us a new, vivid and absorbing look at Robert Kennedy's surprising transformation into the audacious hero exalted by American progressives today." - Michael Beschloss, author of PRESIDENTIAL COURAGE
"A fascinating study of a man whose political journey was as complex as he was. Bohrer puts us right there in the swirl of history, capturing the soft-hearted and hard-headed idealism that convinced generations of Americans of our own capacity to push the world to where it should be." - Cody Keenan, Chief Speechwriter for President Obama
"In this elegant and meticulously-researched book, John R. Bohrer recounts RFK's three years after his brother's 1963 assassination and illuminates the many crossroads he faced in becoming his own man. This book makes Kennedy's personal and public crucible come alive with a host of unforgettable characters." - Thomas Maier, author of WHEN LIONS ROAR: THE CHURCHILLS AND THE KENNEDYS
"Bobby Kennedy's journey between JFK's assassination and his own is one of the most remarkable political transformations in American history. For anyone inspired by the passion and courage revealed in RFK's final years, Jack Bohrer brilliantly captures Kennedy's evolution from political hatchet man to becoming the compassionate hero who still inspires the world a half century later." - Joe Scarborough, Co-Host, MSNBC's Morning Joe
"Jack Bohrer has brought us a meticulously researched and vividly detailed account of the period when Bobby Kennedy, the President's brother, became Robert F. Kennedy, a giant in his own right. As Bohrer movingly chronicles, RFK demonstrated a capacity for leadership, courage and idealism our politicians would do well to summon today." - Betsy Fischer Martin, former Executive Producer of Meet the Press and Executive in Residence, American University School of Public Affairs
"Fast-paced and full of new detail, Bohrer's reevaluation of RFK's wandering years signals the arrival of an unusually gifted writer and historian." - Matt Bai, author of ALL THE TRUTH IS OUT
"Bohrer is a beautiful writer . . . this is an exceptional book . . . I would strongly recommend it without reservation." - Presidential historian Mike Shaw's Executive Power blog