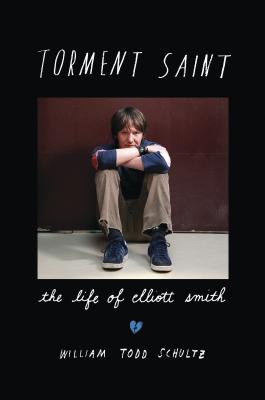 Torment Saint
The Life of Elliott Smith
Hardcover

* Individual store prices may vary.
Other Editions of This Title:
Paperback (4/7/2015)
Description
Elliott Smith was one of the most gifted songwriters of the '90s, adored by fans for his subtly melancholic words and melodies. The sadness had its sources in the life. There was trauma from an early age, years of drug abuse, and a chronic sense of disconnection that sometimes seemed self-engineered. Smith died violently in LA in 2003, under what some believe to be questionable circumstances, of stab wounds to the chest. By this time fame had found him, and record-buyers who shared the listening experience felt he spoke directly to them from beyond: astute, damaged, lovelorn, fighting, until he could fight no more. And yet, although his intimate lyrics carried the weight of truth, Smith remained unknowable. In Torment Saint, William Todd Schultz gives us the first proper biography of the rock star, a decade after his death, imbued with affection, authority, sensitivity, and long-awaited clarity.

Torment Saint draws on Schultz's careful, deeply knowledgeable readings and insights, as well as on more than 150 hours of interviews with close friends from Texas to Los Angeles, lovers, bandmates, music peers, managers, label owners, and recording engineers and producers. This book unravels the remaining mysteries of Smith's life and his shocking, too early end. It will be, for Smith's legions of fans and readers still discovering his songbook, an indispensable examination of his life and legacy.
Praise For Torment Saint: The Life of Elliott Smith…
"[Schultz] has obviously internalized Smith's work and honors its spirit through precise, descriptive notes and observations... [It's a portrait] as heartbreaking and well-crafted as one of Elliott Smith's songs." —Los Angeles Times

"In Torment Saint, [Schultz] has written his own kind of love song--an account of Smith's life that does full justice to his memory and the impressive legacy of his art... Both a persuasive reckoning with Elliott's inner demons and--much more important--a full appreciation, and celebration, of his undeniable genius." —Rhett Miller, Bookforum

"Torment Saint will likely go down as the definitive biography of the singer/songwriter... Schultz uncovers a great deal of new information that further humanizes [Smith]... [It's] a full portrait of a troubled man who made beautiful music and left us far too soon." —Paste

"Torment Saint is a highly readable, headlong dive into the far end of a tormented artist's head space. It's a cloudy, gray place at times, but even the saddest, darkest moments contain a beautiful silver lining." —Willamette Week

"Persuasive... Exposes surprises across the songwriter's body of work... Essential for fans of Smith [but] more than worthwhile for any pop music fan." —Library Journal

"Schultz brings to his work a deep understanding of how inner and outer landscapes can affect unique and sensitive artists... But no matter how dark Smith's story gets, Schultz never loses sight of the beauty of his music." —Publishers Weekly, starred review

"Fans of Smith's ethereal music will appreciate this book." —Booklist Online

"Elliott Smith, whose soul presides over the lives of melancholy indie rockers, gets the wake song he deserves in William Todd Schultz's Torment Saint." —Vanity Fair

"Torment Saint is the most comprehensive and detailed account of the life of America's most under-heralded musical talent." —Examiner.com

"This is an epic poem to a true musical antihero, a tale as complex, dense, and poetic as Elliott himself, complete with harrowing details of every stop in his heartrending artistic odyssey." —Amanda Palmer, songwriter, performer, artist, most recently on Theatre is Evil, with the Grand Theft Orchestra

"William Todd Schultz knows that the music is the key to understanding Elliott Smith, but he doesn't settle for what the songs alone will tell him. In Torment Saint, the author goes deep, crafting an engrossing tale of a troubled young man with a great gift whose complexity rendered him a puzzle to his ardent fans and even his closest friends. Schultz does a valiant job of putting the pieces together, through intensive research and insightful analysis. That Torment Saint is the definitive final word on such a brilliant artist should be viewed as a triumph, even as it confirms the tragedy of losing that artist. Filled with beauty and pain and clearly put together with tremendous care and deep respect, this is the book Elliott Smith deserves." —Mark Baumgarten, author of Love Rock Revolution: K Records and the Rise of Independent Music

"Schultz's Torment Saint offers a candid, heavily researched and truly empathetic look into a troubled genius's life. As someone who knew Elliott Smith, I was grateful for the whole life arc and the connection of dots. It's a sensitive and inquisitive look at a beautifully talented soul." —Sluggo, guitarist for the Grannies

"Schultz personalizes and universalizes Elliott Smith. His balance of authorial distance with compassion is unsurpassable. All of the tiny details are rendered with great skill to form a moving, compact encyclopedia for those of us who knew Elliott Smith personally and those who did not." —Nelson Gary, author of A Wonderful Life in Our Lives
Bloomsbury USA, 9781608199730, 368pp.
Publication Date: October 1, 2013
About the Author
William Todd Schultz is a professor of psychology at Pacific University in Oregon, focusing on personality research and psychobiography. He edited and contributed to the groundbreaking Handbook of Psychobiography, and curates the book series Inner Lives, analyses of significant artists and political figures. His own book in the series, Tiny Terror, examines the life of Truman Capote. Todd Schultz blogs for Psychology Today.