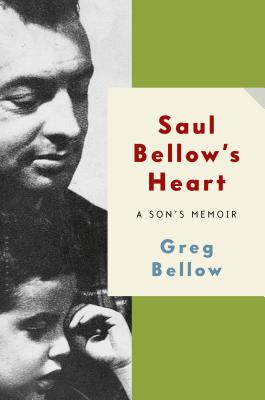 Saul Bellow's Heart
A Son's Memoir
Hardcover

* Individual store prices may vary.
Other Editions of This Title:
Paperback (4/8/2014)
Description
In this warm, affectionate, yet strikingly honest look inside the life of one of America's greatest 20th century writers, his father the Nobel Prize-winning author Saul Bellow, Greg Bellow offers a view no one else has of a man known to be quick to anger, prone to argument, politically conservative, and palpably vulnerable to criticism. Yet there was a bond of tender emotion between Saul Bellow and Greg, his firstborn.

In Saul Bellow's Heart, Greg Bellow gives voice to a side of Saul unknown to most others, the "Young Saul"-emotionally accessible, often soft, with a set of egalitarian social values and the ability to laugh at the world's folly and himself; rebellious, irreverent, and ambitious.Saul's accessibility and lightheartedness waned as he aged, and his social views hardened.This is the "Old Saul" most known to the world, and these changes taxed the relationship between Bellow and his son so sorely that Greg often worried whether it would survive. But theirs were differences of mind, not of heart.Interweaving stories based on autobiographical references in Saul's books that only he might recognize, Greg Bellow reveals himself to be a fine prose stylist, never shying away from the truth. In Saul Bellow's Heart, he has written a memoir that gives equal weight to the rebellious, irreverent, and ambitious young writer who raised him, and the older literary giant, famous and fiercely private.
Praise For Saul Bellow's Heart: A Son's Memoir…
"Saul Bellow's Heart is a fascinating personal document written with much sympathy, yet an admirable candor, by Bellow's eldest son Gregory, a psychotherapist. It is a portrait of the artist at close quarters, and at a little distance; a confirmation of the deep autobiographical roots of Bellow's fiction; and a revelation of what it means to be a child, in this case one of three sons, of the most lavishly acclaimed American writer of the second half of the 20th century." —Joyce Carol Oates

"Nuanced, moving, and idiosyncratic, with an unpredictable ending." —New York Review of Books

"Greg Bellow's new memoir, Saul Bellow's Heart, now stands as the single most important book for those of us who have long wondered what his famous father was really like . . . . For better and worse, there's no stronger account of the life and times of the great writer than this one that was written by his own flesh and blood." —The Jewish Daily Forward

"Lovers of Bellow's novels will find familiar things illuminated in a different light. This is a book of nuances. And for a writer who looms as large as Saul Bellow, we can value its insights." —San Francisco Chronicle

"Saul Bellow's Heart is written with love mixed with vexation and frustration rather than with anger or resentment." —Washington Post

"Greg has done something complicated and remarkable. He has spared none of the unsavory parts of his father's character and still enabled us to understand why this man could generate, throughout his life, so much love. Greg expresses anger along the way--this book does not pull punches with the characters who moved through Bellow's life--without the rancorous bitterness that suggests still unsettled reflections. Greg has opened his own heart. If there is any truth to the old adage that you judge a parent by the child, Greg is a testimonial." —Los Angeles Review of Books

"[A] balanced exposé of a Nobel Prize-winning author whose memorable, fallible narrators closely resemble Saul Bellow at various stages of his emotional and intellectual lives…Bellow's oeuvre has been examined many times by literary critics and biographers, but his son has unique insights into the author's heart, born of long conversations over many years about topics that a less liberal parent would have avoided." —Christian Science Monitor

"In Saul Bellow's Heart, which weaves memories and feelings with a discussion of Bellow's novels, the son sets out to reveal the human being concealed inside the literary lion. The memoir accomplishes this beautifully. Engaging and well-composed." —Washinton Independent Review of Books

"Greg is capable of showing great sympathy and reserve of judgment when discussing Saul, who required exorbitant portions of both--and often demanded more still." —New York Observer

"Saul Bellow was an incandescent being, and also incandescently difficult. Greg Bellow has written a wrenchingly candid account of being his son -- a real son, not a literary son: there is no self-invention here, there is only self-discovery. I was deeply moved by Greg Bellow's memoir of his passage from pain to acceptance. Amid the brutalities of love he has found its blessing." —Leon Wieseltier

"Affectionate but candid and at times brutally painful and honest, Saul Bellow's Heart reveals much about Saul and his oldest son. In writing this memoir Greg forges a final link between them, the act of writing and connecting again to a father whom he now knows more fully if less privately. For readers interested in both Saul Bellow and the complexities of father-son relationships, this memoir is revealing and rewarding." —Jewish Book Council

"Fondness doesn't lead to blindness in these pages: Thoughtful analysis and understanding are hallmarks throughout…A passionate book by a man with his own strong opinions." —Washington Times

"Unabashedly straightforward." —Publishers Weekly

"[A] richly personal portrait…Replete with compelling inside-literature tales, this is a loving and exacting remembrance of a 'literary lion.'" —Booklist

"Bittersweet . . . Replete with intimate anecdotes and insightful glimpses into the autobiographical aspects of the elder Bellow's fiction." —Library Journal

"Bellow scholars will be arguing about Saul Bellow's Heart for three hundred years." —Gloria Cronin, Editor, Saul Bellow Journal
Bloomsbury USA, 9781608199952, 240pp.
Publication Date: April 23, 2013
About the Author
Gregory Bellow, PhD, was a psychoanalytically oriented psychotherapist for forty years and remains a member of the Core Faculty of The Sanville Institute. He lives in Redwood City, California.
or
Not Currently Available for Direct Purchase