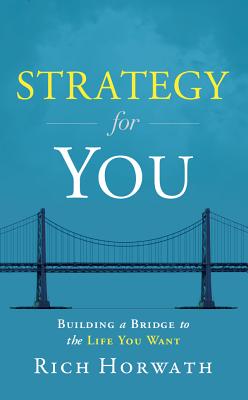 Strategy for You (Hardcover)
Building a Bridge to the Life You Want
Greenleaf Book Group, 9781608322510, 160pp.
Publication Date: January 24, 2012
* Individual store prices may vary.
Description
Most people have spent their lives randomly bouncing around like bumper cars, never arriving at the life they want. If fact, new research shows that only 15 percent of adults have a plan for their life. But what if there was a way, a proven way, to experience more of what life has to offer?
In "Strategy for You," world-renowned strategist Rich Horwath provides a proven plan for building the bridge to an exceptional life. Based on Horwath's ground-breaking work in the field of strategic thinking, the book helps readers apply the time-tested principles of business strategy to their lives. The author incorporates GOST (goals, objectives, strategies, tactics_, SWOT (strengths, weaknesses, opportunities, threats), and other business tools into a five-step plan that enables readers to
DISCOVER the purpose in their lives
DIFFERENTIATE their unique strengths
DECIDE how best to allocate their time and talent
DESIGN an effective action plan
DRIVE their plan to ultimate success
To help readers get from where they are today to where they want to go, Horwath illustrates his five-step plan with examples of people who have successfully used strategy as a bridge to realize their destinies.
"Strategy for You" gives readers the opportunity to maximize their true potential at work and at home and build that bridge to the life they've always wanted.

About the Author
FROM THE NEW YORK TIMES AND WALL STREET JOURNAL BESTSELLER

Rich Horwath is a business strategist, author, and speaker committed to helping people think strategically to grow profitably. He is a former chief strategy officer and professor of management and is the founder of the Strategic Thinking Institute. His strategy consulting, training, and speaking work with world-class organizations has been profiled in Investor s Business Daily and on NBC and FOX. Horwath s previous book, "Deep Dive," has been described by the director of worldwide operations for McDonald s as the most valuable book ever written on strategic thinking. He lives in Barrington Hills, Illinois, with his wife and two children.

For more information visit www.strategyskills.com."
or
Not Currently Available for Direct Purchase