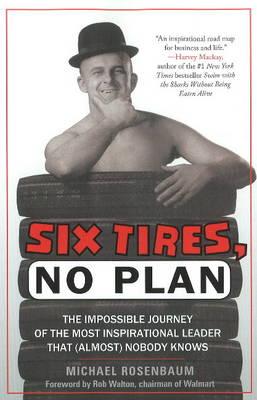 Six Tires, No Plan: The Impossible Journey of the Most Inspirational Leader That (Almost) Nobody Knows (Hardcover)
The Impossible Journey of the Most Inspirational Leader That (Almost) Nobody Knows
Greenleaf Book Group, 9781608322572, 185pp.
Publication Date: March 1, 2012
Description
Most Unlikely to Succeed
No one who charted Bruce Halle's early years would predict that the poor kid from New Hampshire might achieve greatness as an adult. Challenged in school and growing up in a struggling family, Halle looked like every other kid who would leave high school in the 1940s and disappear into a factory.
Instead, Halle created one of America's most respected companies, rose to join the "Forbes" magazine list of the four hundred richest Americans and serve as the role model for the ordinary Joes who seek out success at Discount Tire Company.
"Six Tires, No Plan" maps Halle's journey out of poverty and failure and reveals the deceptively simple values that drive success for him, his company and thousands of employees. Key among those principles is Halle's commitment to passing on his good fortune to the thousands of employees who serve his customers every day. This is Halle's true passion, and paying it forward to the ordinary guy is a cornerstone of Discount Tire's ongoing success.
Avoiding the spotlight, crediting his employees for the success of the company, Halle demonstrates the incredible power of perseverance and fundamental values to create long-term success. His journey offers a roadmap worth following in both career and life.

About the Author
Michael Rosenbaum is a business consultant and former financial journalist who has both studied and advised hundreds of corporate leaders over his career. As president of the nation s largest investor relations agency, Rosenbaum managed operations of a $35 million business and advised CEOs and CFOs at more than 150 companies regarding strategic financial and marketing issues. He holds both a bachelor s degree in communications and a master s degree in business administration and is an active member of the World Presidents Organization. In addition to "Six Tires, No Plan," he has written three business texts and a collection of commonsense life lessons, "Your Name Here: Guide to Life."

"
Advertisement