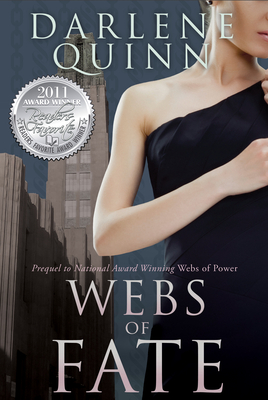 Webs of Fate (Paperback)
Webs of Fate: Book 1 of the Webs Series
Greenleaf Book Group Press, 9781608323890, 517pp.
Publication Date: September 1, 2012
Other Editions of This Title:
Hardcover (10/1/2011)
* Individual store prices may vary.
Description
In the high-fashion world of the mid-'80s, Ashleigh McDowell falls victim to a painful betrayal by Danielle Norman, a naive and vulnerable young buyer who is fighting to save her plummeting career. How high a price will both women pay in their battle over a grave secret?

Each step Ashleigh takes to uncover the truth about Danielle's actions--and her whereabouts--unwittingly exposes her to a criminal mastermind who feels events spinning out of his control. Unexpectedly, Ashleigh discovers an ally in her hunt for Danielle--the handsome Conrad Taylor. But is he the man who will steal her heart or break it?

In a race against both time and the emotions that haunt her, Ashleigh ultimately finds what fate holds for her.

From international award-winning author Darlene Quinn, Webs of Fate is a tension-filled work of fiction that creates the background for the personalities and motivations that drive the stories in Webs of Power and Twisted Webs.

Read the entire Webs standalone series
Webs of Fate
Webs of Power
Twisted Webs
Unpredictable Webs
Conflicting Webs
About the Author
Darlene Quinn is an author and journalist. She worked in the world of department store management during a period of dynamic upheaval. Webs of Power and Twisted Webs have been winners of the Indie National Excellence Awards and finalists in the USA National Best Books. Twisted Webs was recently named winner of the 2011 International Book Award for fiction and literature. Darlene now lives in Long Beach, California, with her husband, Jack.
or
Not Currently Available for Direct Purchase