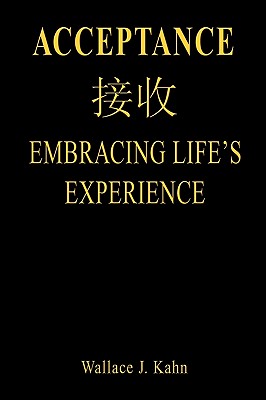 Acceptance (Paperback)
Embracing Life's Experience
Dog Ear Publishing, 9781608441501, 244pp.
Publication Date: October 6, 2009
Description
Much has been written about the increasing pace of change and the complexity of challenges that we encounter every day. As we move from task to task, often juggling multiple tasks, time seems to evaporate in the exhaustion of "doing." In our work, play, our interactions with others, and the constant drone of electronic communication, our thoughts perpetuate the tug-of-war between events in our past and expectations of our future. Seldom do we allow ourselves to simply be in the present, open to whatever is occurring within and outside of us "now." Consequently, our reluctance (not our inability) to "stop and smell the roses" prevents us from realizing the full acceptance of ourselves, others and the myriad experiences that occur to us. This book explores the essence of being in the present and its relevance to all manifestations of acceptance.
Over the course of this book we will explore acceptance as a way of thinking, feeling and behaving. As the critical elements in the experience of acceptance are explained and illustrated, we will learn about the creation of non-judgmental awareness and then the process of taking ownership and responsibility for that which emerges in our awareness. From our understanding of the nature of acceptance, we will sequentially address the rationale and application of acceptance to ourselves, others and the trying conditions that challenge all of us. Acceptance of our personal experience of pain, illness and death will receive particular attention in these pages. Additional attention will be given to the experience of faith as a transcendent belief that has sustained acceptance over the millennia. Each chapter will focus upon a particular topic or theme and culminate in a number of questions to reflect upon. These reflective questions will personalize the content of each chapter and help the reader see that change is desirable and viable when pursued within the context of full acceptance. Our last chapter will provide exercises that will help the reader embrace life's experience through acceptance.
Acceptance has been the focus of extensive research and clinical application over the past decade. The insights and conclusions that I offer in this book were drawn from this rich literature as well as the personal experiences of myself and others. However, this book was not written to be a scholarly tome or a formula for clinical practice. Rather, this book was written so that others (professional and laypersons alike) could learn about acceptance as I have, and incorporate that learning into a more satisfying, successful and accepting life. This book could be used for self-help, academic curricula or simply as a stimulus for personal inquiry. It all depends upon the reality that you wish to construct around acceptance.
Advertisement