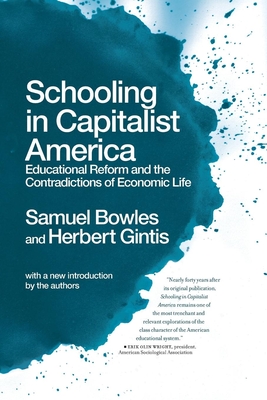 Schooling in Capitalist America
Educational Reform and the Contradictions of Economic Life
Paperback

* Individual store prices may vary.
Other Editions of This Title:
Hardcover (10/18/2011)
Description
This seminal work . . . establishes a persuasive new paradigm.--Contemporary Sociology
No book since Schooling in Capitalist America has taken on the systemic forces hard at work undermining our education system. This classic reprint is an invaluable resource for radical educators.
Samuel Bowles is research professor and director of the behavioral sciences program at the Santa Fe Institute, and professor emeritus of economics at the University of Massachusetts.
Herbert Gintis is an external professor at the Santa Fe Institute and emeritus professor of economics at the University of Massachusetts.
Praise For Schooling in Capitalist America: Educational Reform and the Contradictions of Economic Life…
There could not possibly be a better time to rediscover the classic work that taught a generation to interrogate and challenge the economic forces and corporate predations that betray the democratic possibilities of public education. This powerful book is more relevant today than when it first aroused the outrage and the passion of the nation thirty years ago. I hope that it will reinforce the battle to resist coarseness and vulgarity of those efficiency technicians and business-minded technocrats in Washington who are riding high now in their efforts to establish uniformity, subservience, utility, and intellectual conformity as the guiding principals of public education. The sweep and brilliance of this work is the perfect antidote to toxic and misguided policies that are anti-child, anti-intellect, anti-egalitarian, and which need to be denounced, defied, and fearlessly rejected. As such, it deserves a wider readership than ever."
Jonathan Kozol, author, Savage Inequalities and Shame of the Nation

Nearly 40 years after its original publication, Schooling in Capitalist America remains one of the most trenchant and relevant explorations of the class character of the American educational system."
Erik Olin Wright, president, American Sociological Association

The reissue of Schooling in Capitalist America is a welcome event. Its message that schools foster personality traits that are highly valued in society has been affirmed in much subsequent research. The book properly directs attention away from an exclusive focus on cognition as the principal determinant of inequality and its perpetuation over generations. Noncognitive traits matter greatly, and they
are shaped by schools and families. These messages are timely reminders that contemporary cognitive-test-oriented educational policy and policy evaluation focus only on a narrow set of the important skills that schools create."
James Heckman, University of Chicago; winner, 2000 Nobel Memorial Prize in Economics
Haymarket Books, 9781608461318, 340pp.
Publication Date: October 18, 2011
About the Author
Samuel Bowles: Samuel Bowles is Research Professor and Director of the Behavioral Sciences Program at the Santa Fe Institute, and Professor Emeritus of Economics, University of Massachusetts. Herbert Gintis: Herbert Gintis is an external professor at the Santa Fe Institute and a Emeritus Professor of Economics at the University of Massachusetts.