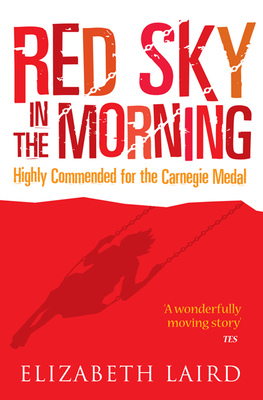 Red Sky in the Morning
Paperback

* Individual store prices may vary.
Description
"Quite simply, a wonderfully moving story about the power of love. --Times Educational Supplement
"A wry first-person narrative. . . . Discussion of handicaps, death and bereavement, and religious belief are carefully integrated into the story."--School Library Journal
Twelve-year-old Anna is looking forward to the birth of her baby brother. Ben arrives, but is disabled. Anna loves him immensely but she finds herself unable to admit the truth about Ben to her friends. Eventually the truth gets out and leads not to the ridicule Anna expected, but sympathy and understanding.
Elizabeth Laird's award-winning young adult novels include A Little Piece of Ground and Crusade.
Haymarket Books, 9781608461530, 192pp.
Publication Date: July 10, 2012
About the Author
Elizabeth Laird was born in New Zealand of Scottish parents, but grew up in London. Before studying French and German at university, she taught at a girls' school in Malaysia. During her twenties she lived and worked in Ethiopia, teaching and travelling, and was a disc jockey on a late night music show, broadcasting to Africa and India. She now lives in London. Elizabeth is best known for her fiction for children and young adults. Novels include Red Sky in the Morning (1988), about a disabled child; Kiss the Dust (1991), about Kurdish asylum seekers in Iraq; Secret Friends (1996); Jay (1997), which has a drug theme; and Jake's Tower (2001), in which a boy has to cope with a violent stepfather. The Garbage King (2003) is set in Addis Ababa, and is about Ethiopian street children. A Little Piece of Ground (2003) is set in Ramallah, Palestine, from the point of view of boys caught up in the intifada. Secrets of the Fearless (2006) is a historical adventure story set against the backdrop of Nelson's navy. Elizabeth Laird's books have been translated into 15 languages. Her most recent works are Oranges in No Man's Land (2006), and Crusade (2007).