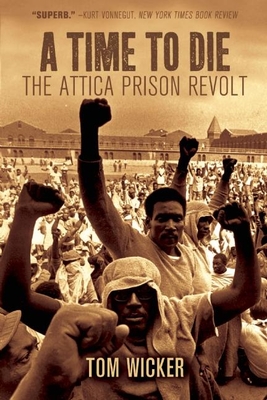 A Time to Die
The Attica Prison Revolt
Paperback

* Individual store prices may vary.
Description
IN 1971, the inmates of Attica revolted, took hostages, and forced the authorities into four days of desperate negotiation. The rebels demanded -- and were granted -- the presence of a group of observers to act as unofficial mediators. Tom Wicker, then the Associate Editor of the New York Times, was one of those summoned. This is his account.
Praise For A Time to Die: The Attica Prison Revolt…
It's a grim sign of our dark times that Tom Wicker's A Time to Die is now more timely than ever. Almost four decades after this book revealed to the world both the horrid conditions that led to the Attica prison revolt and the ensuing carnage and torture carried out by New York State authorities, America's prison system has evolved into one of the most hideous and massive violations of human rights on our planet today. Wicker's role at Attica was a life-changing experience for him, and this book he published in 1975 seemed at the time to be an alarming wake-up call for the nation. Now that this great work is back in print, Wicker's vision can help make the nation confront the roots and realities of the twenty-first-century American prison."
H. Bruce Franklin, author of Prison Literature in America and editor of Prison Writing in 20th-Century America

The Attica rebellion and Rockefeller-sanctioned massacre occurred forty years ago. Tom Wicker's story though could not be more vital today in the United States, where we have ten times the number of prisoners as we did at the time of Attica and our prisons make an art out of destroying human beings. A Time To Die compels us to understand the inhumanity of prisons in America, one of the greatest injustices of our time, and of a state that has no compunction about murdering prisoners and jailers alike. If you believe that the state puts any value on the lives of the incarcerated or on their jailers, this book will change you forever. Think Attica forty years ago, think Pelican Bay today. Then act."
Michael Ratner, President, Center for Constitutional Rights

A Time to Die is a searing portrait, not only of one of the great historical tragedies of the U.S. prison system, but of a journalist who wishes desperately to contribute to the struggle for racial justice while also grappling with his own white, middle-class biases. Its lessonsabout the racist underpinnings of mass incarceration, about the cynical politics that determine life-or-death decisions, and about the conditions that deny prisoners their basic humanityare as relevant today as when it was first published. This is a book that should be taught in classrooms."
Liliana Segura, Associate Editor, The Nation


Praise for previous editions of A Time to Die: The Attica Prison Revolt

The Attican events, described with energy and workday language. . . . will surely appease the hunger of tens of thousands of us for an honest insider's account of what led to such a ferocious attack on virtually unarmed prisoners. . . . [I]t is a heartbroken rather than angry book. It is a superb documentary which would hold up in court."
Kurt Vonnegut, The New York Times Book Review

A Time to Die is an excellent and gripping account of a massacre that dramatized some appalling weaknesses in the fabric of our society."
Nation

One of Wicker's most telling points is that the placement of these human warehouses' [in Attica] out of sight of the law-abiding who need never go there has resulted in their administration by guards unable to cope with, sometimes unable even to understand the language of their charges. . . . Wicker is scathing on Rockefeller's evident belief that the order of things must be preserved.'"
Newsweek

A Time to Die is detailed, painstakingly thorough, explicit in its detail and photographs, and frightening in its implications."
American Bar Association Journal

Tom Wicker's A Time to Die is multilayered. On one level, it is history; on a second, political philosophy; on a third, autobiography; and on a final level, an appeal for prison reform. Above all, however, it is good writing."
Yale Law Review


[A Time to Die] is an unusual blend of reporting and personal soul searching. . . . [T]he result is tense, gripping, and shocking."
School Library Journal
Haymarket Books, 9781608462155, 346pp.
Publication Date: October 11, 2011
About the Author
Tom Wicker, a former reporter, Washington bureau chief, and columnist for The New York Times, is the author of several books, including On the Record. He lives in Rochester, Vermont.