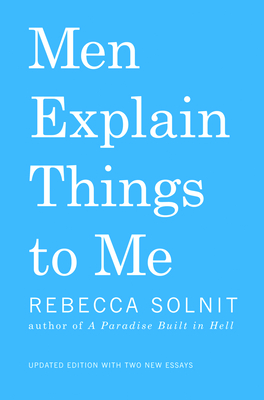 Men Explain Things to Me
Hardcover

* Individual store prices may vary.
Other Editions of This Title:
Paperback (9/1/2015)
Hardcover (6/25/2019)
MP3 CD (9/1/2015)
Paperback (9/4/2014)
Description
In her comic, scathing essay "Men Explain Things to Me," Rebecca Solnit takes on what often goes wrong in conversations between men and women. She writes about men who wrongly assume they know things and wrongly assume women don't, about why this arises, and how this aspect of the gender wars works, airing some of her own hilariously awful encounters. She ends on a serious note-- because the ultimate problem is the silencing of women who have something to say, including those saying things like, "He's trying to kill me " The updated edition of this national bestseller features two new essays, including Solnit's recent essay on the remarkable feminist conversation that arose in the wake of the 2014 Isla Vista killings. This slim book hums with power and wit.
--Boston Globe The Antidote to Mansplaining.
--The Stranger Feminist, frequently funny, unflinchingly honest and often scathing in its conclusions.
--Salon Solnit tackles big themes of gender and power in these accessible essays. Honest and full of wit, this is an integral read that furthers the conversation on feminism and contemporary society.
--San Francisco Chronicle Top Shelf Solnit is] the perfect writer to tackle the subject: Her prose style is so clear and cool.
--The New Republic Writer, historian, and activist Rebecca Solnit is the author of fourteen books, most recently The Faraway Nearby. She is a Harper's Magazine contributing editor.

Haymarket Books, 9781608464968, 171pp.
Publication Date: November 11, 2014
About the Author
Rebecca Solnit: Rebecca Solnit is the author of 13 books, including A Paradise Built in Hell: The Extraordinary Communities That Arise in Disasters and Infinite City: A San Francisco Atlas. She is, from kindergarten to graduate school, a product of the California public education system now being decimated.
or
Not Currently Available for Direct Purchase