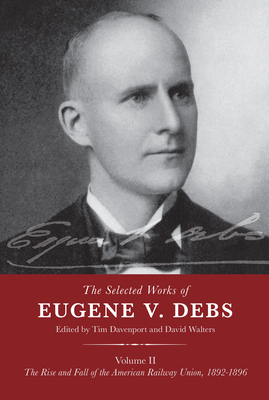 The Selected Works of Eugene V. Debs Volume 2 (Paperback)
The Rise and Fall of the American Railway Union, 1892-1896
Haymarket Books, 9781608467655, 656pp.
Publication Date: September 17, 2019
Other Editions of This Title:
Hardcover (2/4/2020)
Paperback (2/4/2020)
Hardcover (9/17/2019)
Hardcover (3/12/2019)
Paperback (2/19/2019)
* Individual store prices may vary.
Description
Tim Davenport and David Walters have extracted the essential core of Debs's life work, illustrating his intellectual journey from conservative editor of the magazine of a racially segregated railway brotherhood to his role as the public face and outstanding voice of social revolution in early twentieth-century America. Well over 1,000 Debs documents will be republished as part of this monumental project, the vast majority seeing print again for the first time since the date of their original publication.
Eugene V. Debs (1855-1926) was a trade unionist, magazine editor, and public orator widely regarded as one of the most important figures in the history of American socialism.
About the Author
Tim Davenport, a resident of Corvallis, Oregon and a member of DSA, launched his Early American Marxism website (www.marxisthistory.org) in 2004 and has been a volunteer with Marxists Internet Archive for more than a decade. Writing as "Carrite," he has started more than 300 articles at Wikipedia and improved hundreds of others on topics relating to labor history and political biography. He is a member of the Organization of American Historians, Historians of American Communism, the Society for Historians of the Gilded Age and Progressive Era, and the Labor and Working-Class History Association. His previous book is The "American Exceptionalism" of Jay Lovestone and His Comrades [2015], co-edited with Paul LeBlanc and reissued as a Haymarket Books paperback in 2018.