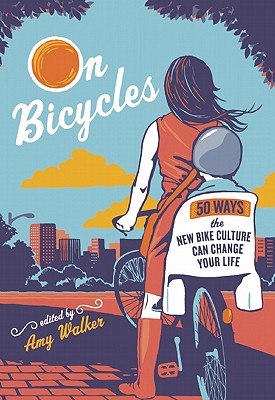 On Bicycles: 50 Ways the New Bike Culture Can Change Your Life (Paperback)
50 Ways the New Bike Culture Can Change Your Life
New World Library, 9781608680221, 371pp.
Publication Date: September 20, 2011
Description
Bike culture is exploding in cities like Portland, OR, New York, San Francisco, Chicago, Montreal, and Vancouver, BC. Whether people are riding folding bikes to the commuter train, slipping through traffic on streamlined single speeds, or carrying children and groceries on their cargo bikes, bicycles are making urban life more dynamic and enjoyable simply better.

Amy Walker has been at the forefront of this trend as cofounder of Momentum magazine, which chronicles and inspires urban bike culture and transportation cycling. In On Bicycles, she gathers a wide-ranging group of cycling writers to explore the ways that biking can change, and is changing, people's lives. From utility bikes that are becoming the primary mode of transportation for entire families to the artistic creations of freakbike riders, On Bicycles has something for everyone who has ever ridden a bike.

Topics include:

* cargo bikes * bike parties * a history of bike advocacy
* the bike-craft boom * folding bikes * recumbents * biking with kids
* handmade bikes * car-free streets * relocalizing * bike style
* collective bike shops * women and bikes * and many more
About the Author
Amy Walker is a cofounder of "Momentum Magazine," which focuses on transportation cycling and covers all aspects of urban bike culture throughout North America. She lives in Vancouver, British Columbia.
Praise For On Bicycles: 50 Ways the New Bike Culture Can Change Your Life…
The Whole Earth Catalog of bicycle culture."
— Stephen Bilenky

Much like the mythological hero who has forgotten his gift, we are a generation that is remembering that we know how to ride bicycles. This book is a treasure-filled map for those who are hearing the call to take up their bike and ride again."
— Ross Evans, founder/inventor of Xtracycle and Worldbike

Amy Walker has that canny ability to thread the needle of safety, practicality, and looking mightily good on a bike. This book gives you some bright and clever new tools to experience the exceptional convenience a bike can bring, not to mention that big healthy smile we get riding!"
— Gary Fisher
Advertisement