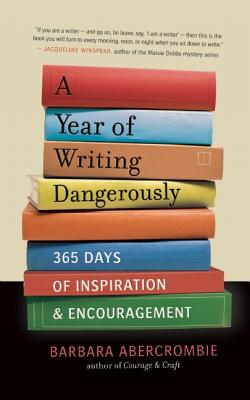 A Year of Writing Dangerously (Paperback)
365 Days of Inspiration & Encouragement
New World Library, 9781608680511, 393pp.
Publication Date: June 12, 2012
* Individual store prices may vary.
Description
This work features a compendium of daily lessons, anecdotes, quotations, and prompts to remind writers why they write. The book addresses the real fears and challenges of working writers.
About the Author
A widely published author and editor, Barbara Abercrombie teaches at the UCLA Extension Writer's Program. She lives in Santa Monica, California.
Praise For A Year of Writing Dangerously: 365 Days of Inspiration & Encouragement…
If you are a writer and go on, be brave, say, I am a writer' then this is the book you will turn to every morning, noon, or night when you sit down to write."
Jacqueline Winspear, author of the Maisie Dobbs mystery series

When you open Barbara Abercrombie's brilliant A Year of Writing Dangerously, you are in a house full of writers, each of whom wants to march you over to a corner to tell you something important about the writing life....Prepare yourself for a wonderful party!"
Phyllis Theroux, author of The Journal Keeper: A Memoir

Funny and full of comfort (and the company of writing rock stars), this book is as essential to any writer as a verb."
Caroline Leavitt, New York Times bestselling author of Pictures of You

There is something necessary in these pages for everyone, from the beginning writer to the widely published author."
Naomi Benaron, author of Running the Rift, winner of the Bellwether Prize for Fiction

Candid and inspiring. Full of the kind of wit and wisdom her students have come to expect."
Dennis Palumbo, author of the Daniel Rinaldi mystery series

A tremendously useful book for anyone who wants to write."
Janet Sternburg, author of Phantom Limb

I loved this book. Every entry is a new adventure, followed by a quotation that illuminates and stimulates the mind."
Abigail Thomas, author of A Three Dog Life

Filled with wisdom about the writing process and sound counsel for those who engage in it."
Ralph Keyes, author of The Courage to Write