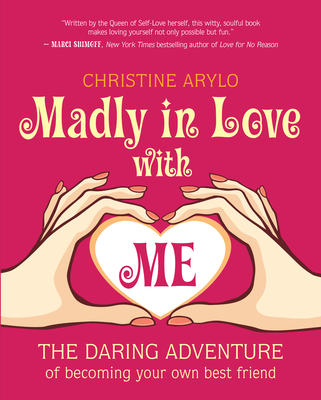 Madly in Love with Me (Paperback)
The Daring Adventure of Becoming Your Own Best Friend
New World Library, 9781608680658, 325pp.
Publication Date: November 6, 2012
* Individual store prices may vary.
Description
Most of us know that loving ourselves would be a good idea, but we have no clue what that really means. Self-love feels too vast, too esoteric, and frankly like something you should keep under wraps. This breakthrough book on self-love changes all that by taking you beyond the idea of loving, valuing, and caring for yourself into daring acts that will help you experience it. Christine Arylo provides practical, fun ways to explore and embody the ten branches of self-love every day and in every part of your life. Reading this book is like receiving permission to treat yourself as a best friend would. Imagine having the power to: * Give to yourself first, without guilt
* Shower yourself with loving words instead of criticism and comparison
* Go for your dreams with conviction and courage
* Choose the situations and relationships that make you happiest
* Discover and explore your deepest thoughts and desires -- and act on them

About the Author
Christine Arylo is a feminine leadership advisor, transformational speaker, and best selling author who leads retreats, workshops, and programs around the world, working with women to make shift happen -- in the lives they lead and work they do. She is the founder of the international Path of Self Love School, a global school with over 35,000 students and certified teachers on six continents. She also hosts the Feminine Power Time podcast.
Praise For Madly in Love with Me: The Daring Adventure of Becoming Your Own Best Friend…
Written by the Queen of Self-Love herself, this witty, soulful book makes loving yourself not only possible but fun."
Marci Shimoff, New York Times bestselling author of Love for No Reason

Christine Arylo turns the elusive task of learning to love yourself into a concrete, how-to, doable path that anyone can master. This is by far one of my all-time favorite books."
Rhonda Britten, Emmy Award winner and author of Fearless Living

Madly in Love with ME is like a magic elixir just the potion we need to recapture that powerful, transformational force of loving ourselves fully and fiercely."
Meggan Watterson, author of Reveal

Christine Arylo can help you know yourself, accept yourself, delight in yourself, and love yourself for real and for keeps. The result: you'll shine more light, radiate more charisma, generate more power, and have more fun."
Victoria Moran, author of Creating a Charmed Life

Much more than a self-help book, Madly in Love with ME is an illuminated self-love guidebook that shows you exactly how to love yourself well and live your happiest life no matter what."
SARK, artist and author of Glad No Matter What