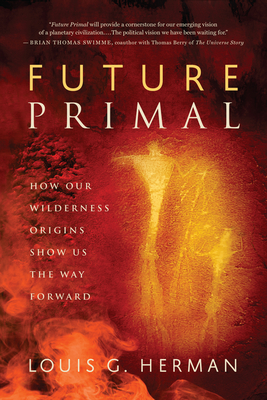 Future Primal (Paperback)
How Our Wilderness Origins Show Us the Way Forward
New World Library, 9781608681150, 466pp.
Publication Date: March 19, 2013
* Individual store prices may vary.
Description
How should we respond to our converging crises of violent conflict, political corruption, and global ecological devastation? In this sweeping, big-picture synthesis, Louis G. Herman argues that for us to create a sustainable, fulfilling future, we need to first look back into our deepest past to recover our core humanity. Important clues for recovery can be found in the lives of traditional San Bushman hunter-gatherers of South Africa, the closest living relatives to the ancestral African population from which all humans descended. Their culture can give us a sense of what life was like during the tens of thousands of years when humans lived in wilderness, without warfare, walled cities, or slavery. Herman suggests we draw from the experience of the San and other earth-based cultures and weave their wisdom together with the scientific story of an evolving universe to help create something radically new an earth-centered, planetary politics with the personal truth quest at its heart.
About the Author
Louis G. Herman, a professor of political science at the University of Hawaii-West Oahu, was born in an orthodox Jewish community in apartheid South Africa. He was educated in England, studied medicine at Cambridge University, and then moved to Israel to live on a kibbutz. After a life-changing wartime experience as an Israeli paratrooper, he turned to political philosophy. He lives in Honolulu.
Praise For Future Primal: How Our Wilderness Origins Show Us the Way Forward…
Future Primal will provide a cornerstone for our emerging vision of a planetary civilization....The political vision we have been waiting for."
Brian Thomas Swimme, coauthor with Thomas Berry of The Universe Story

A vision of a new kind of politics for a new era of humanity...A seminal book that bears witness to the folly of all those who say we cannot change."
Wade Davis, National Geographic Explorer-in-Residence and author of Into the Silence

This is a brilliant book. The work of a lifetime of profound and richly varied boundary-crossing experiences combined with broad and insightful intellectual inquiry, it addresses one of the most critical needs of our time in accessible, almost poetic prose. No words of mine can do it justice."
David C. Korten, board chair of YES! magazine and author of The Great Turning, Agenda for a New Economy, and When Corporations Rule the World

I've studied and worked with Bushman communities for twenty-five years, and only now after reading this book do I understand just how important their lessons are for humanity today....This is an eloquent, inspirational work."
Craig Foster, ethnographic and wildlife documentary filmmaker and director of The Great Dance: A Hunter's Story

A unique contribution to rethinking our collective story, from our common past out of Africa toward a shared future on our endangered planet. To sink into this perspective is to see with fresh insight how we truly belong here such a gift!"
Mary Evelyn Tucker, cofounder and codirector of the Forum on Religion and Ecology at Yale University