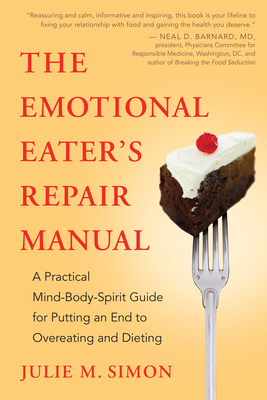 The Emotional Eater's Repair Manual
A Practical Mind-Body-Spirit Guide for Putting an End to Overeating and Dieting
Paperback

* Individual store prices may vary.
Description
Despite our best intentions, many of us find ourselves routinely overeating at meals, snacking mindlessly, or bingeing regularly. As emotional eaters, we turn to food for comfort, soothing, distraction, and excitement. There's a disconnection fueling our eating, robbing years from our lives, and we know it. We're tired of restrictive diets that lead back to overeating, and we're ready to try something different. Therapist and life coach Julie Simon offers a new approach that addresses the true causes of overeating and weight gain: emotional and spiritual hunger and body imbalance. The Emotional Eater's Repair Manual presents five self-care skills, five body-balancing principles, and five soul-care practices that can end overeating and dieting forever. You'll learn to nurture yourself without turning to food, to correct body and brain imbalances that trigger overeating, and to address your soul's hunger. Weight loss, more energy, improved health, and self-esteem will naturally follow.
Praise For The Emotional Eater's Repair Manual: A Practical Mind-Body-Spirit Guide for Putting an End to Overeating and Dieting…
Reassuring and calm, informative and inspiring, this book is your lifeline to fixing your relationship with food and gaining the health you deserve."
Neal D. Barnard, MD, president, Physicians Committee for Responsible Medicine, Washington, DC, and author of Breaking the Food Seduction

A must-read for anyone who struggles with overeating. Julie Simon offers a beautifully written, compassion-filled guide for ending emotional eating, yo-yo dieting, and poor health....Practical and inspirational."
Rory Freedman, coauthor of Skinny Bitch

Breaks new ground and offers a fresh, heartfelt approach to an age-old problem. Highly recommended!"
Hyla Cass, MD, author of 8 Weeks to Vibrant Health

By addressing all aspects of a woman's inner and outer life from her brain chemistry to the robustness of her social and spiritual connectedness Julie Simon's anti-diet approach gives women the tools they need to finally feel comfortable in their own skin."
Sara Avant Stover, author of The Way of the Happy Woman

In this marvelous book, Julie Simon takes you on a journey of self-care and soul-care that will help you understand your emotional and spiritual hungers, heal your relationship with food, and bring balance and happiness into your life."
John Robbins, author of Diet for a New America
New World Library, 9781608681518, 360pp.
Publication Date: November 6, 2012
About the Author
Julie M. Simon, MA, MBA, LMFT, is a licensed psychotherapist and life coach with more than twenty years of experience helping overeaters stop dieting, heal their relationships with themselves and their bodies, lose excess weight, and keep it off. A lifelong fitness enthusiast, she is also a certified personal trainer and the founder and director of the Los Angeles-based Twelve-Week Emotional Eating Recovery Program. She lives in Los Angeles.