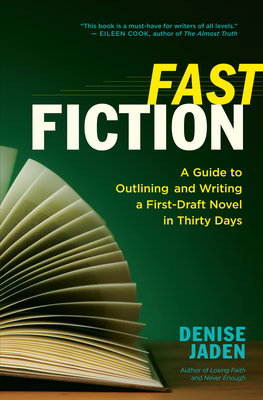 Fast Fiction
A Guide to Outlining and Writing a First-Draft Novel in Thirty Days
Paperback

* Individual store prices may vary.
Description
Writers flock to National Novel Writing Month (NaNoWriMo) each November because it provides a procrastination-busting deadline. But only a fraction of the participants meet their goal. Denise Jaden was part of that fraction, writing first drafts of her two published young adult novels during NaNoWriMo. In Fast Fiction, she shows other writers how to do what she did, step-by-step, writer to writer. Her process starts with a prep period for thinking through plot, theme, characters, and setting. Then Jaden provides day-by-day coaching for the thirty-day drafting period. Finally, her revision tips help writers turn merely workable drafts into compelling and publishable novels. A portion of publisher proceeds will be donated to National Novel Writing Month (NaNoWriMo)
New World Library, 9781608682546, 193pp.
Publication Date: February 11, 2014
About the Author
Denise Jaden fast-drafted her debut novel, Losing Faith (Simon & Schuster), in twenty-one days during NaNoWriMo. Her second fast-drafted novel was published in 2012. She runs a fast-drafting challenge on her blog each March and lives outside Vancouver, BC, Canada.