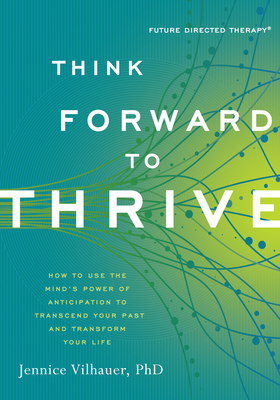 Think Forward to Thrive (Paperback)
How to Use the Mind's Power of Anticipation to Transcend Your Past and Transform Your Life
New World Library, 9781608682980, 233pp.
Publication Date: October 14, 2014
* Individual store prices may vary.
Description
Stop talking about your past and start creating your future
Anticipating a positive future is the key to well-being and mental health. Yet when many people think of the future, they experience anxiety, depression, fear, and self-doubt. Unaware of how to change the future, most people are trapped in a cycle of re-creating their past. But your past does not have to define who you are or where you are going you can break free. Future Directed Therapy (FDT) is a new psychotherapy that helps people create their future with awareness and choice, with skills based on cutting-edge cognitive science. Think Forward to Thrive is filled with information and step-by-step exercises to help you:
* Overcome negative emotions
* Identify what you want in life
* Transform limiting beliefs
* Take action
* Live ready for success.
About the Author
Jennice Vilhauer, PhD, is the director of the Adult Outpatient Psychotherapy Program and an assistant professor in the Department of Psychiatry and Behavioral Science in the School of Medicine at Emory University in Atlanta, Georgia. The developer of Future Directed Therapy, she has over twelve years of experience training psychologists and psychiatrists in cognitive therapy and helping clients create better futures.
Praise For Think Forward to Thrive: How to Use the Mind's Power of Anticipation to Transcend Your Past and Transform Your Life…
An accessible guide for breaking free of the past and learning to live the life you want." Marissa Burgoyne, Psy.D, Pepperdine University