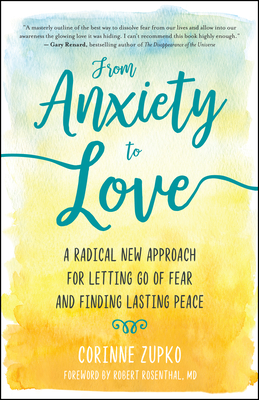 From Anxiety to Love: A Radical New Approach for Letting Go of Fear and Finding Lasting Peace (Paperback)
A Radical New Approach for Letting Go of Fear and Finding Lasting Peace
New World Library, 9781608685059, 224pp.
Publication Date: February 15, 2018
Description
Author Corinne Zupko, Ed.S., a licensed counselor and Mindfulness-Based Stress Reduction teacher, undertook her study of psychology out of necessity when her own debilitating symptoms of anxiety threatened to derail her life. Seeking ways to do more than tamp down her symptoms, Zupko scrutinized A Course in Miracles (ACIM), mindfulness meditation, and the latest therapeutic approaches to anxiety. She healed her own mental anguish using the perception-shifting process she here describes. Readers learn to undo anxiety-based thinking by acting on the teachings of ACIM, by fostering mindful shifts in their thoughts and actions, and by connecting to their Inner Therapist, that "deeply gratifying, enormously comforting" inner voice that affirms our safe oneness with the universe rather than our ego's perception of danger and separation. Whether everyday-stressed or struggling with near-crippling discomfort, readers will discover a new way of healing from -- rather than just coping with -- fear and anxiety.
About the Author
Corinne Zupko, EdS, LPC, has coached, counseled, and educated thousands of individuals at national and state conferences, in the classroom and in workshops, over the phone, and in the therapy chair. She teaches weekly meditation classes for corporate clients and cohosts the largest virtual conference of ACIM in the world through the organization Miracle Share International, which she cofounded. She lives in New Jersey.
Advertisement