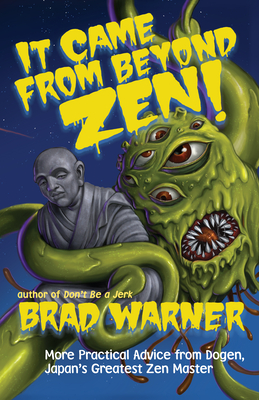 It Came from Beyond Zen!
More Practical Advice from Dogen, Japan's Greatest Zen Master
Paperback

* Individual store prices may vary.
Description
Vol. 2 of Brad Warner's Radical but Reverent Paraphrasing of Dogen's Treasury of the True Dharma Eye

In Japan in 1253, one of the great thinkers of his time died -- and the world barely noticed. That man was the Zen monk Eihei Dogen. For centuries his main work, Shobogenzo, languished in obscurity, locked away in remote monasteries until scholars rediscovered it in the twentieth century. What took so long? In Brad Warner's view, Dogen was too ahead of his time to find an appreciative audience. To bring Dogen's work to a bigger readership, Warner began paraphrasing Shobogenzo, recasting it in simple, everyday language. The first part of this project resulted in Don't Be a Jerk, and now Warner presents this second volume, It Came from Beyond Zen Once again, Warner uses wry humor and incisive commentary to bridge the gap between past and present, making Dogen's words clearer and more relevant than ever before.
New World Library, 9781608685110, 368pp.
Publication Date: October 10, 2017
About the Author
Ordained as a Soto Zen priest, Brad Warner is also a punk bassist, filmmaker, and blogger. He is the founder of Angel City Zen Center in Los Angeles and the author of Hardcore Zen, Sit Down and Shut Up, and several other books about Zen Buddhism. His writing appears on SuicideGirls.com and in Lion's Roar, Tricycle, Buddhadharma, and Alternative Press. He lives in Los Angeles.