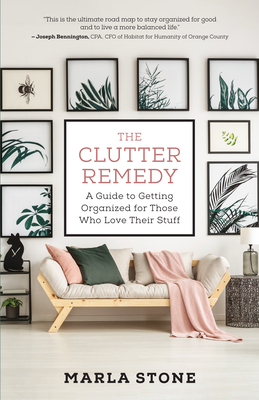 The Clutter Remedy (Paperback)
A Guide to Getting Organized for Those Who Love Their Stuff
New World Library, 9781608686292, 256pp.
Publication Date: October 15, 2019
* Individual store prices may vary.
Description
There are many valid approaches to getting rid of stuff and creating neat and tidy spaces. But like many diets, most of these approaches fail long-term. That's because lots of us like our stuff. Whether it's books or photos or tchotchkes, the things we choose to surround ourselves with are often important to us. Marla Stone, a former therapist turned professional organizer who works with individuals and corporations at all levels, helps readers create spaces that look and feel like readers at their best. She focuses not just on throwing stuff out but on understanding what will stay put and why. Stone walks readers through a process of knowing themselves and their values; summoning up motivation; and visualizing their ideal lifestyle and optimal surroundings. Armed with this understanding, readers are empowered to approach every room in their house, every aspect of their workspace, and even every aspect of their health and well-being with energy and clarity. Whether it's the refrigerator or New Year's resolutions, piles of books or boxes of heirlooms, Stone helps readers eliminate physical and emotional road blocks and guides them toward surroundings that reflect not just who they are but also who they want to be.
About the Author
Marla Stone, MSW, is the owner of I-Deal-Lifestyle, which provides de-cluttering, design, corporate training, and lifestyle coaching services. Stone has a background in social work and therapy, has worked extensively with military personnel and their families, and is active in professional conferences and on social media.