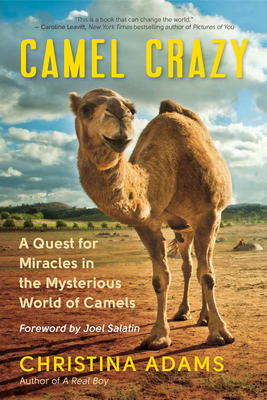 Camel Crazy (Paperback)
A Quest for Miracles in the Mysterious World of Camels
New World Library, 9781608686483, 304pp.
Publication Date: October 29, 2019
* Individual store prices may vary.
Description
How does someone become the first person to obtain federal government permission to import camel milk for autism? Why would this woman do so? And why should anyone care? Readers are in for an armchair adventure that answers these questions and then some. When Adams had the idea that camel's milk might help her son with autism, a faraway doc helped her smuggle some into the U.S. Her son got dramatically better overnight and off author Christina Adams went -- to find camels, whose large teeth and height scared her even as their soft lips and gentle, curious eyes won her over; to understand why camels are cherished, regarded as family members, and hailed as healers; and to help make camels the second-fastest growing livestock in the world because of new demand for their milk. Readers visit the camel farms of Arab royals; meet passionate Amish farmers, elusive Indian camel caregivers and white-swathed Tuareg nomads. But the most fascinating characters in Camel Crazy are the camels themselves. Cute and mischievous but also huge, adept fighters, they are the inspiration for this moving and rollicking ode to "camel people" and the creatures they -- and readers will -- adore.
About the Author
Christina Adams, the author of the memoir A Real Boy, is a journalist and speaks on autism, health, and camels. Her work has been featured by National Public Radio, The Washington Post, The Los Angeles Times, Gulf News, Dubai One, GOOD, Open Democracy, OZY, WebMD, Rajasthan Patrika, Tata SKY TV, Epocha, Orange Coast Magazine, Global Advances in Health and Medicine, and more.