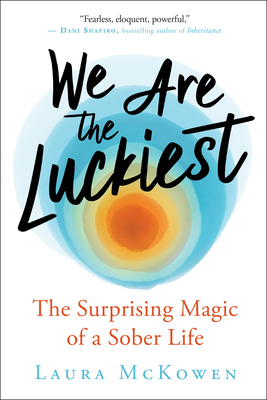 We Are the Luckiest (Hardcover)
The Surprising Magic of a Sober Life
New World Library, 9781608686544, 256pp.
Publication Date: January 7, 2020
* Individual store prices may vary.
Description
What could possibly be "lucky" about addiction? Absolutely nothing, thought Laura McKowen when drinking brought her "to her knees." As she puts it, she "kicked and screamed . . . wishing for something -- anything -- else" to be her issue. The people who got to drink normally, she thought, were so damn lucky. But in the midst of early sobriety, when no longer able to anesthetize her pain and anxiety, she realized, with more than a bit of amazement, that she was actually the lucky one. Lucky to feel her feelings, live honestly, really be with her daughter, change her legacy. She recognized that "those of us who answer the invitation to wake up, whatever our invitation, are really the luckiest of all." She posted these sentiments to Instagram with the hashtag #wearetheluckiest and the concept took off. In her sellout workshop series she met a woman with the words tattooed on her arm, WATL t-shirts and mugs were created, and the phrase became a shorthand way of coming out as sober. Here, in straight-talking chapters filled with personal stories, McKowen addresses issues such as facing facts, the question of AA, and other people's drinking. Without sugarcoating the struggles of recovery, she relentlessly emphasizes the many blessings of an honest life, one without secrets and debilitating guilt. McKowen flips the script on how we talk about sobriety and shows readers that the question we should be asking in our lives is not, "Is this bad enough that I have to change?" but rather, "Is this good enough to stay the same?
About the Author
Laura McKowen had a long, successful career in public relations and the Mad Men-esque drinking culture of advertising. After getting sober, she became recognized as a fresh voice in recovery, beloved for her soulful and irreverent writing online and in print. She now leads sold out retreats and courses, teaching people to how to say yes to a bigger life. She lives outside Boston, Massachusetts.